The E-Type's speedometer and tachometer inspired the design of the new Bremont Jaguar MKIII.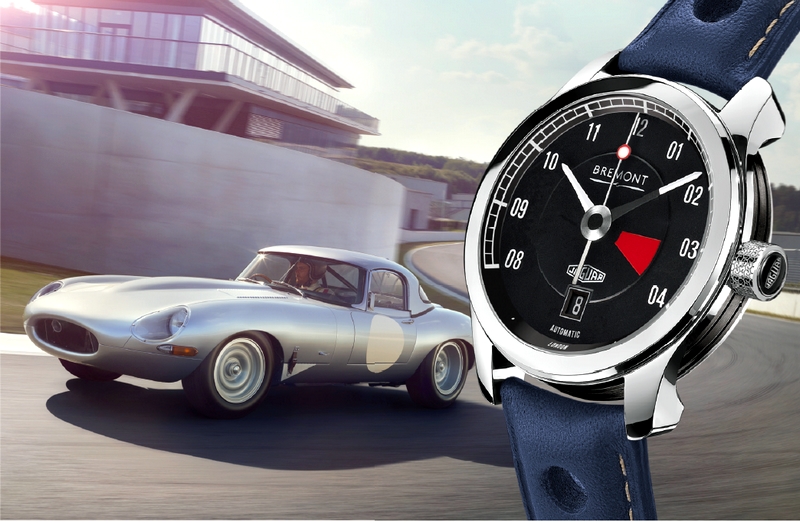 The award-winning British luxury watch brand Bremont extends Jaguar collection of watches with the introduction of the MKIII, a watch paying homage to the E-Type's tachometer.
This new model is the most paired back timepiece in the range yet still very much in keeping with the design of the MKI and MKII. The MKIII by comparison has a slightly slimmer 43mm polished steel case; the black tachometerinspired dial design features the date window at the six o'clock position and carries the Jaguar heritage logo right above it. Its hour markings are reminiscent of the numerals found on E-Type instruments and the dial features a distinctive 'red line' quadrant between three and four o'clock also paying homage to the E-Type's tachometer. The watch is supplied with a perforated 'racing' strap in true '60s style, together with an alligator spare.
As with the other models in this range the iconic winding crown harks back to the Lightweight E-Type using the same original Dunlop 'tyre tread', topped with the Jaguar heritage logo to match that of the dial. Turning the MKIII over reveals further automotive imagery in the form of its closed case back, inspired by wheel centre detailing from the E-Type. The 43mm stainless steel case – which is fitted with a double-domed crystal to enhance the vintage appearance of the watch – is made entirely in the UK by Bremont using its renowned, three-part 'Trip-Tick' technology that also incorporates Bremont's anti- shock movement mount technology.
Bremont chronometers are both dedicated to the road-going Jaguar E-Type which at its 1961 launch was not only the fastest production car in the world but, according to Enzo Ferrari, the most beautiful. In working to capture the E-Type's essence in a wrist watch, Jaguar's Director of Design Ian Callum and the creative team at Bremont homed-in on another of its signature features – the dashboard. At its heart are the speedometer and tachometer (or 'rev counter') and it is these that inspired the look of the Bremont Jaguar collection of watches.
"Like the Bremont watch we designed to complement the Special GT, or 'Lightweight' E-Type continuation cars, the The E-Type's speedometer and tachometer inspired the design of the Bremont Jaguar MKIII. Bremont Jaguar collection had to capture the spirit of what is undoubtedly one of the most iconic sports cars of all time in a subtle and intelligent way," said Jaguar Design Director Ian Callum.
"The result is a range of watches which subtly relay some of the codes of the E-Type, but which are also easy to recognise as having been created with the car in mind. They simply look absolutely right when you wear them in the driving seat – almost as if they had been designed alongside the car back in the '60s."