745-HP Force 1 V10 debuted at 2016 North American International Auto Show as the New American Supercar.

Legendary automotive designer Henrik Fisker and American race car driver Ben Keating unveiled the 2016 Force 1 V10, an all new American Super Car, during the North American International Auto Show (NAIAS). The two-seat, all carbon fiber-bodied Force 1 is a high-performance, low production sports car, manufactured in Auburn Hills, Michigan by the newly launched VLF Automotive, of which  Fisker is a partner and design chief. With Fisker's signature balance between proportion, sculpture and graphics, the exterior design of Force 1 boasts classic American sports car proportions with a long hood, short front overhang, long tail and pushed out wheels.
"Force 1 is another dramatic example of what we are going to do at VLF Automotive by combining proven world-class platforms and components with elegant designs to produce stunning bespoke luxury sports vehicles," said Bob Lutz, VLF Automotive Chairman.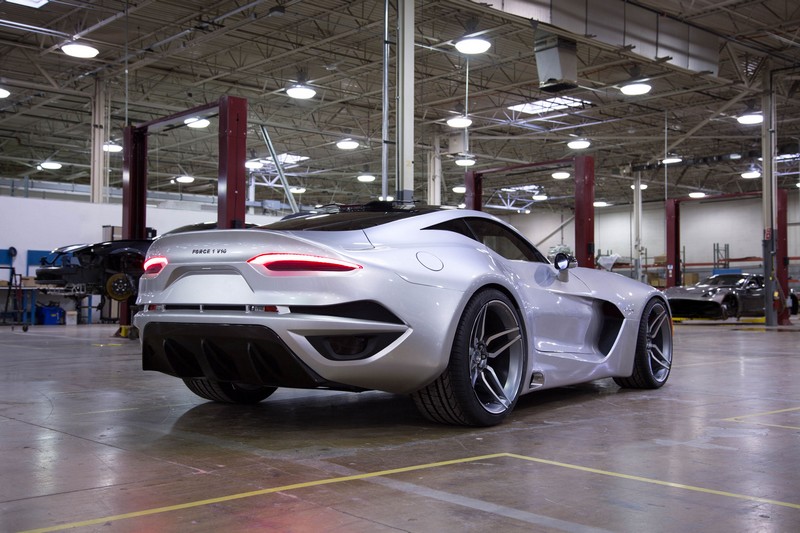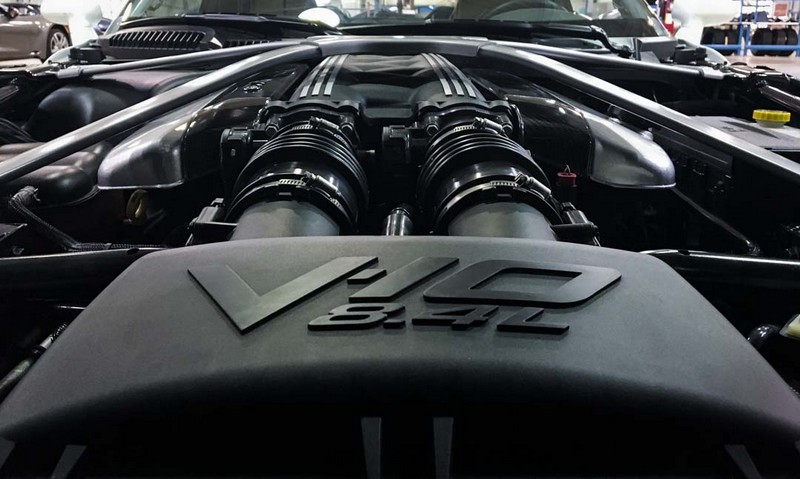 Fisker and Keating entered partnership discussions in early 2015 after bonding over their mutual love of cars.
Force 1 V10 will be produced in limited numbers with an initial production of only 50 units and available through Ben Keating's Viper Exchange. Besides owning a limited edition all-American, high-performance luxury sports car, Force1 V10 owners will have the unique opportunity to attend two racing events per year with Ben Keating as an integral part of the team, in the paddock and in the pits where all the action takes place.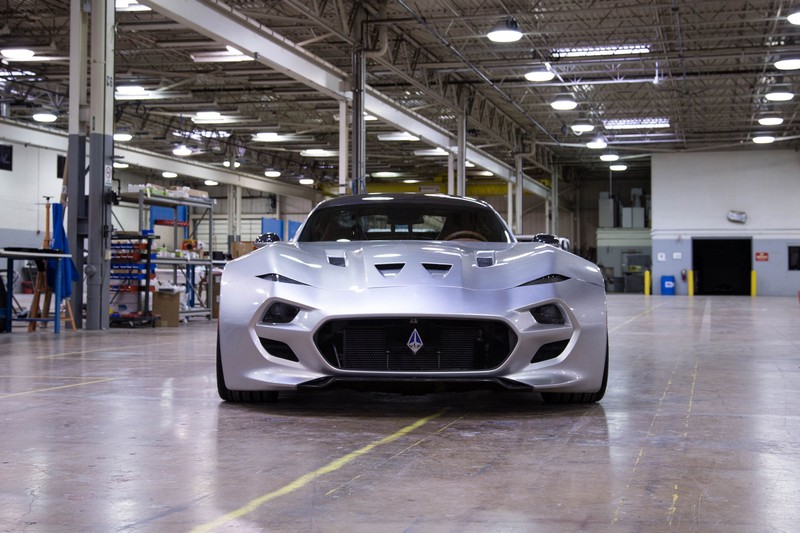 Force 1 V10 supercar features an all carbon fiber, lightweight body and 21-inch wheels with high-performance Pirelli P Zero tires and Brembo high-performance brakes. The car has one of the most powerful naturally aspirated road engines in the world delivering the best performance in its price class.
"What inspired me most about building this partnership with Ben is that he is the most passionate Viper racer in the world and understands performance metrics in cars, both on the track and on the road, better than anyone I've ever met," said Fisker. "He's developed a unique active suspension for superior handling and ride, which is seamlessly integrated into the Force 1, enhancing performance whether on track or road."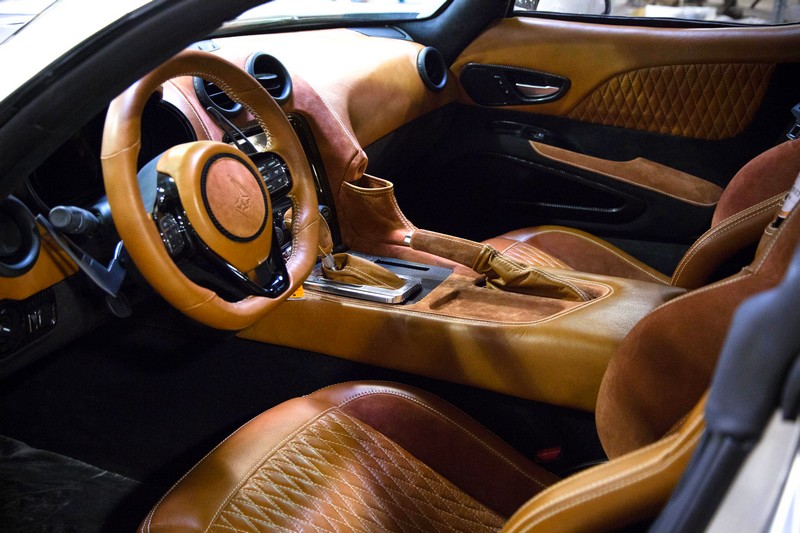 "To work with Henrik as one of the world's best designers to create a super exciting, wide curvy body for this amazing car is the opportunity of a lifetime," Keating said. "Plus, it's the perfect vehicle to showcase many of the incredible performance features we've been working on for years. It really is the chance to start with an amazing initial platform to develop an incredible American super car with exceptional design and performance."
"In the case of Force 1, there is an extremely pushed back green house," Fisker explained. "The sculpture on Force 1 is like a family succession to Destino, dramatic and powerful, relative flat surfaces on the high end of the body side, with lines full of tension, emerging onto a rounder lower section, where Force 1 has a large functional outlet. The sculptural hood has unique, large, negative surfaces, as in the family of the Destino, with six highly needed air intakes and outlets for the 745-HP 8.4 L V10 engine.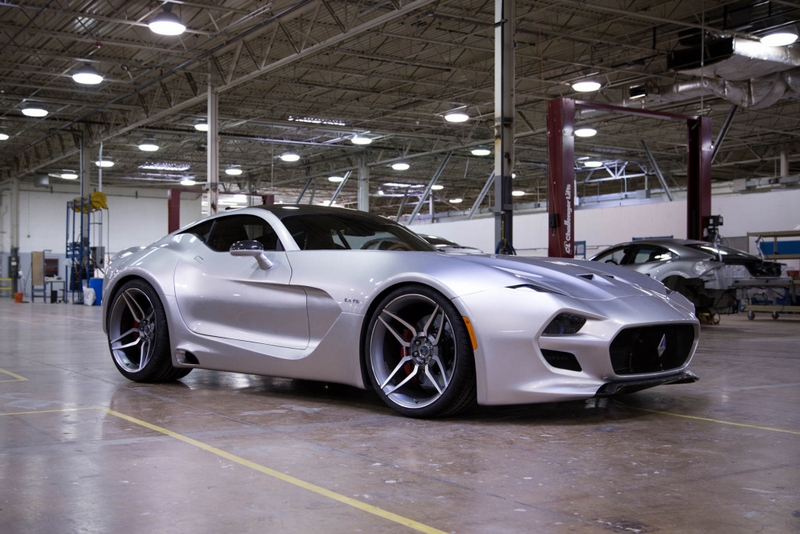 The windscreen wraps around into the side glass, followed by an elegant, yet aggressive side line sweeping up towards the rear deck. The graphics are uniquely sleek with ultra-thin lights in front and UTV laser-blade tail lamps, the thinnest tail lamps in the world, at the rear. The day light opening (DLO), or side window, has a completely new and never before seen graffic that ends up in a sharp spear."
Production commences at the end of April 2016 in Auburn Hills and deliveries begin in third quarter 2016, with the base price starting at $268,500.