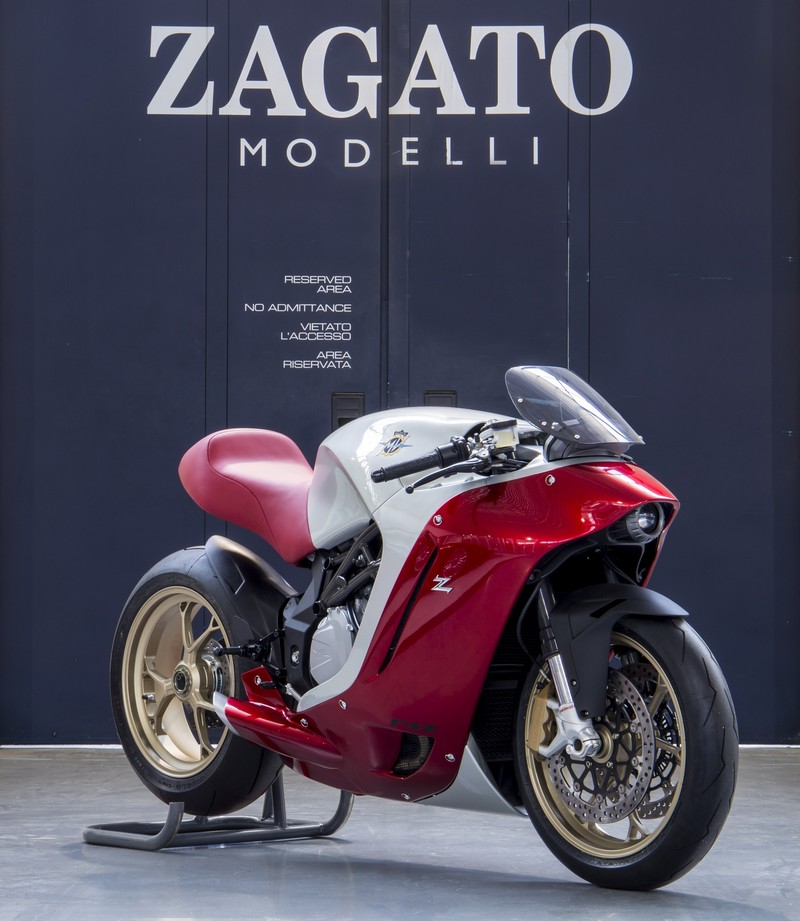 The MV Agusta F4Z presented by Zagato at this year's international Concours d'Elegance Chantilly  Arts & Elegance, goes beyond traditional customization to become a collectible Atelier motorbike.  The starting point was the notion that a motorbike expresses its owner's lifestyle a lot more than a
car.
MV Agusta has attained international renown for its advanced technology, high performance and unique design, making it one of the most exclusive and prestigious brands in the motorcycling world. Its legend has been consecrated by 75 world championships (37 Manufacturers' and 38 Riders') and is celebrated by a range of products capable of winning the most coveted specialised critics' awards. MV Agusta's product portfolio is based on two main platforms, comprising three- and four-cylinder models with a displacement of 675 to 1100 cc and occupying the supersport, superbike, sport-naked
and crossover segments.
The only remaining Italian coachbuilding company to be independent and still in the hands of its  founder's family, Zagato shaped the F4Z, based on the standard mechanics of the MV Agusta F4, as a one-off piece for a Japanese entrepreneur, collector of Zagato cars as well as Italian motorbikes.
The MV Agusta F4Z's bodywork was designed and engineered by the Zagato team and built with noble materials like aluminium and carbon fibre. It consists of a limited number of relatively large panels: this is the characteristic that, in the motorcar world, sets apart collectibles from mass
produced automobiles.
Compared to the production MV Agusta F4, the F4Z features an entirely different bodywork. Some parts had to be adapted and re-engineered, others fully replaced by components that were made specially: intake manifolds, fuel tank, battery, exhaust system.
For MV Agusta, founded in 1945 by Domenico Agusta, the F4Z represents a different result compared to the traditional rules of customisation in the motorbike sector, witnessing the brand's entrance  into the niche of collectibles, built on request and expression of exclusivity, uniqueness and
investment in durables.