The dark figure of Count Cagliostro is inspiring stylish Limited Edition Montegrappa Mysticum Cagliostro. Check out the first collection in Montegrappa's "Mysticum" series.
Here is a pen to believe in the possibility of attaining, insight into mysteries transcending ordinary human knowledge. It is the world of metaphysics and mystery bound to the dark figure of Count Cagliostro inspiring the design of this stylish Limited Edition signed Montegrappa. While Montegrappa ascribes no mystical powers to these new luxurious pens, those who write with it will undoubtedly experience its charms.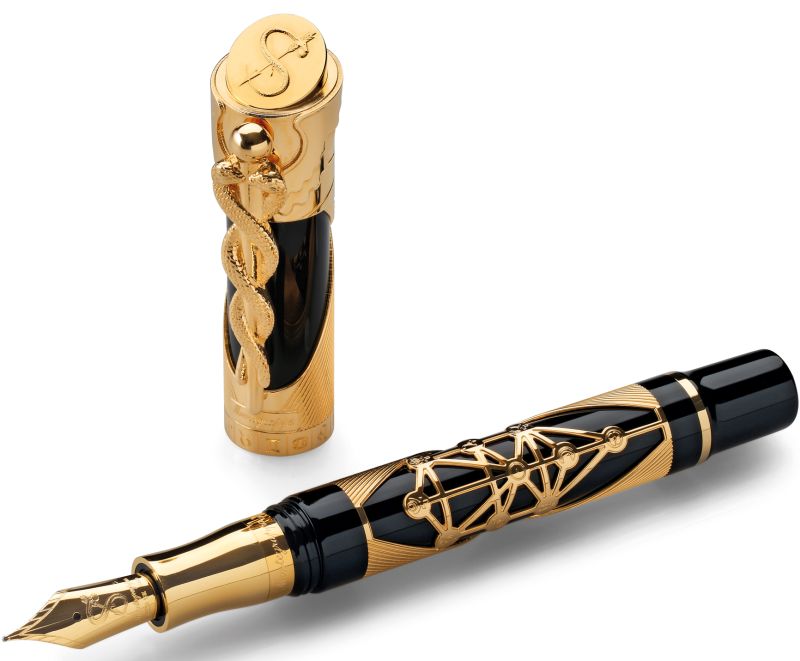 Montegrappa innaugurares a new collection of luxury writing insturments dedicated to mystics, persons who seek by contemplation and self-surrender to obtain unity with or absorption into the Deity or the absolute, or who believe in the spiritual apprehension of truths that are beyond the intellect.
The new Mysticum collection of fine writing instruments celebrates the spaces between the known and the unknown. Appropriately, to initiate its catalogue of notables, the first is a controversial figure encapsulating a mixture of notions from Hermetism, Alchemy, Kabbalah and Freemasonry. He is the legendary Count Cagliostro.
Count Alessandro di Cagliostro was the alias of the occultist Giuseppe Balsamo Cagliostro was an Italian adventurer and self-styled magician.
The Count Cagliostro Pen (Priced at € 34.500,00) is available fountain pen and a rollerball pen, in both black resin and sterling silver or with solid 18k gold trim. The fountain pen is piston-fed, with 18k gold nib with filigree decoration.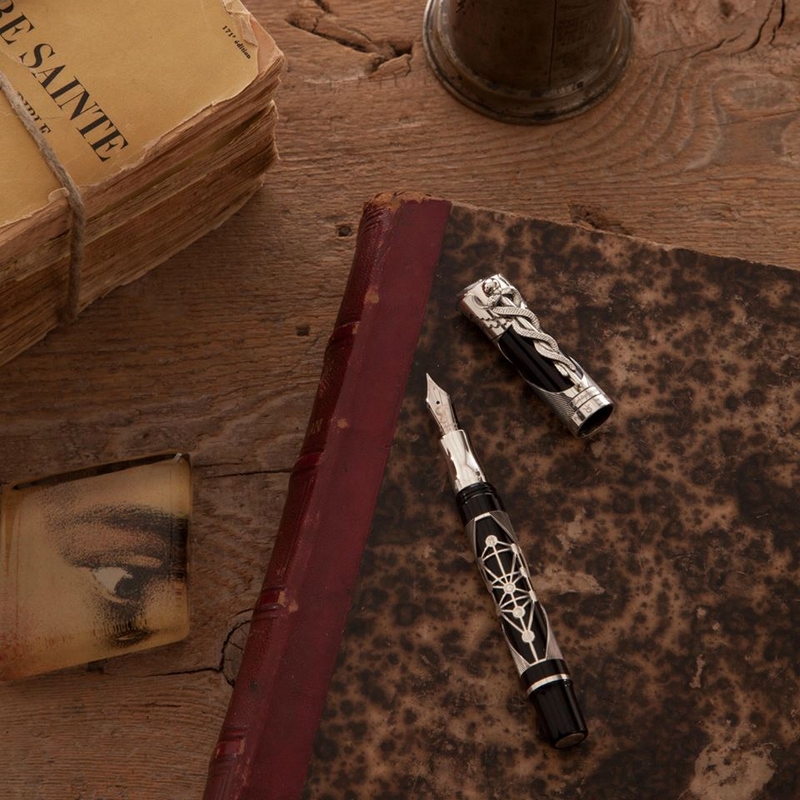 The pen's clip is crafted with the lost-wax casting technique representing the Caduceus and Cagliostro's personal seal symbols, while the pen's barrel and cap are a mixture of silver or gold cutwork and micro-milling. Among the sigils engraved on the pen are the "eye in the pyramid" associated with Illuminati, the square-and-compass of the Freemasons and the grid that represents the Tree of Life of the Kabbalah.
Numerology defines the Kabbalah and is a critical element of the occult. So, too, are the numbers of pens issued in the series. It consists of 289 fountain pens in sterling silver and 289 rollerball pens in sterling silver, for the number of the Masonic lodge in London located on 289 Gerrard Street in Soho, to which the Count was admitted.
22 fountain pens have been fashioned in solid 18K gold, representing the 22 paths of Life, as inscribed on the pen's barrel, with 10 rollerball pens in solid 18K gold, in accordance with the 10 sephiroth on the Tree of Life.