Led by Jacob Arabo, a visionary who embodies the American dream, Jacob & Co. continues to revolutionize the world of jewellery and haute horology. Jacob & Co. Founder draws upon the mystery and intelligence of octopus with the introduction of the luxury brand's entirely new Astronomia model timepiece, the Astronomia Octopus watch.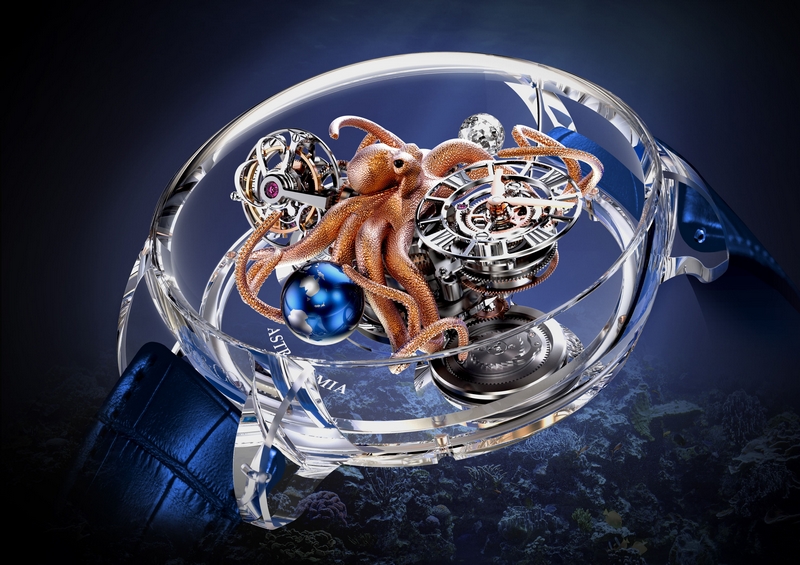 Since its initial launch just under three years ago, Jacob & Co.'s Astronomia Tourbillon has consistently evolved with the introduction of each new model. Because of the additional layer of complexity added by the octopus, the 2017 Astronomia Octopus presented at 2017 Baselworld is piece-unique.
The first Astronomia model to include a sculpture in the core of its composition, the Astronomia Octopus watch is displayed as a true work of art, cased in a new sapphire monoblock casing that allows the sculpture and complications to be admired from multiple angles.
The entirely transparent monoblock case was originally created for the brand's limited addition Astronomia Flawless. In both models, it creates the illusion that the complications inside the timepiece are suspended in mid-air, as the only non-sapphire elements are the two bows on the back to wind the movement and set the time.
"Recognized amongst the most intelligent creatures on Earth, octopi complement the world of watchmaking with their complex nature, symmetrical composition, and mesmerizing movements. The Astronomia Octopus manifests these natural synergies through whimsical design, weaving a hand-crafted sculpture of an octopus through the Astronomia's signature gravitational triple-axis tourbillon," explained Jacob & Co., the privately held jewelry and wristwatch watchmaker and retailer. Jacob & co is known for a number of signature watch styles, such as the "Five Time Zone Watch," which it debuted in 2002.
"The sapphire components of the Astronomia Octopus take a staggering 37 weeks to produce and each component requires at least a dozen different operations in its production. This excludes the time it takes to engrave the piece and the octopus sculpture, as well as the time allocated to assemble and meticulously handfinish the movements," added Jacob & Co.