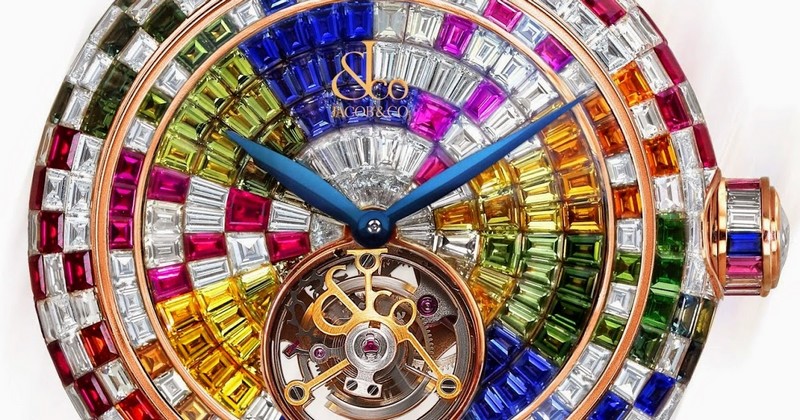 Inspired by the Harlequin character in the commedia dell'arte with its multicolored costume decorated with diamond-shapes, the Jacob & Co. Arlequino Collection watch trim offers a combination of diamonds, rubies and pink, blue, green and orange sapphires all selected for their color intensity.
Similar to the "Arlequino" design concept launched in 2015 for Jacob & Co. Brilliant Flying Tourbillon watch collection, a new colorful and fun variation is found in two models: Caviar and Brilliant Baguettes (44 mm).
The watch case is invisibly set with 403 baguettes and a rose-cut of natural gemstones. The dial is showcasing the one minute flying tourbillon carriage with a power reserve of 100 hours.
The distribution of gems may appear to be random, however it is actually designed with precision to strike the right balance between the different shades adorning the dial. Additionally, the distribution of colors varies for each watch, rendering every Arlequino model unique.
The Arlequino collection may seem simple in appearance, however it demonstrates the highly specialized techniques used in the assembly of these stones. As the hardness of the stones differs from one type to another, the pressure they exert on each other must be adjusted to within a millimeter. All are integrated into a mysterious setting that conceals the metal and reveals all the splendor of the stones.