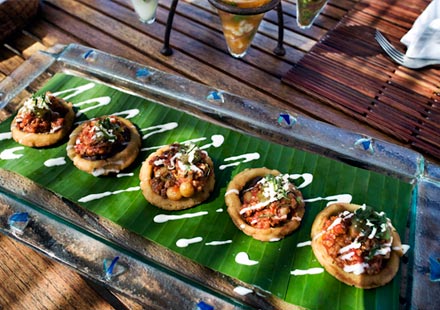 Mexico's world famous traditional cuisine, which is included on the UNESCO List of the Intangible Cultural Heritage of Humanity, has been recognized with another great honor – the International Star Diamond Award. Mexico's Secretary of Tourism, Gloria Guevara accepted the award at a celebratory dinner at the iconic Oak Room in The Plaza Hotel, New York on the evening of April 26, 2012.
Awarded by the American Academy of Hospitality Sciences (AAHS), the International Star Diamond Award recognizes the highest standards of excellence in the travel and luxury sectors. Previous recipients include world renowned hotels and restaurants like The Dorchester, London, Le Bernadin, New York and The Plaza Hotel itself.
Mexican cuisine is famous around the world for its distinctive ingredients, rich heritage and incredible diversity. The celebration dinner will feature five sumptuous courses representing the best of the Mexican traditional cuisine. The menu has been designed by "Chef Decana" of Mexican Cuisine Alicia Gironella De'Angeli. Mexico's leading chefs prepared the meal including Enrique Olvera of Pujol, the first Mexican restaurant and Mexican chef to be featured in the San Pellegrino World's 50 Best Restaurants list, and Margarita Carrillo, who will be cooking for presidents and prime ministers at the upcoming G-20 Summit in Los Cabos in June 2012, alongside Ana Maria Gonzalez, Daniel Ovadia, Sergio Remolina and Gerardo Vazquez.
The AAHS under the leadership of its President Joseph Cinque has been recognizing hotels and restaurants in Mexico for almost two decades with the renowned Star Diamond Award. Cinque said: "I have traveled extensively in Mexico and been impressed with the tremendous effort of people dedicated to maintaining the tradition of its ancient cuisine in restaurants, cooking schools, hotel restaurants and even in homes by generations of families. Mexican Cuisine has conquered the world. Mexico offers travelers the opportunity to gain an incredible cultural experience. On top of the list of these experiences is Mexican Cuisine. For all these reasons The Academy wanted to award Mexico as a country the International Star Diamond Award for the importance of their cuisine in the world of Hospitality."