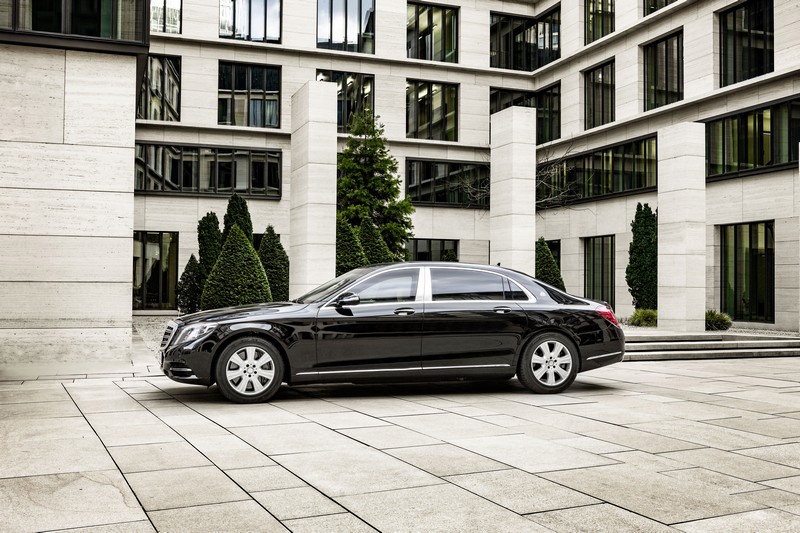 From the outside, the new Mercedes-Maybach S Guard looks just like any other Maybach S 600.The new luxury car is this the first limousine to be bulletproof when it comes to depreciation. An extra protection package has been integrated into the car without changing its appearance.
Mercedes-Benz has been building special-protection vehicles for over 85 years. It started way back with the 1928 Nürburg 460 model, when Daimler-Benz became the first company to begin factory-fitting saloons with special protective features to shield the occupants from gunshots and explosives. Mercedes-Benz also developed specially protected variants of subsequent luxury- class and prestige vehicles such as the "Grand Mercedes" 770 and the 500 model.
The 2016 armoured version of the Mercedes flagship delivers the highest levels of ballistic and blast protection available for non-military vehicles, at the same time offering spaciousness, ride comfort and luxury on-board features. The rear seats have been repositioned further back, adding to the sense of privacy.
Part of Mercedes-Maybach S Guard's protection concept is that it takes a very keen eye to distinguish the armoured version of the Maybach from its series-produced counterpart. A series of special technical features also ensures that the Maybach S-Class remains mobile during and
after an attack and is therefore able to exit the danger zone. The new Mercedes Maybach S600 Guard has been officially certified by the Ballistics Authority in Ulm; for the first time it meets the requirements for VR10 protection rating according to Directive BRV 2009 Version 2 (Bullet Resistant Vehicles).
These guidelines specify that the bodywork and windows must be able to withstand hardened steel core bullets fired from an assault rifle. The vehicle also has an ERV 2010 rating (Explosive Resistant Vehicles). The test criteria used to determine this rating are not in the public domain. After inspection by Germany's Federal Office of Criminal Investigation, the vehicle was approved without any constraints.
In the event of an explosive charge detonating at the side of the vehicle, the armouring protects the occupants as effectively as it does in an assault with explosives beneath the vehicle: the new underbody armouring, already tried and tested in the S-Class, entirely covers the underbody under the occupant compartment, a unique feature in the civilian special- protection segment.
The price of the Mercedes Maybach S600Guard is €470,000 plus VAT.