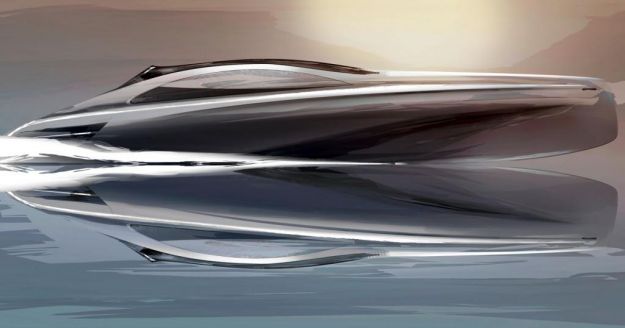 Mercedes-Benz Silver Arrow cars are motor racing icons, known and loved all around the world. Inspired by this symbols, Mercedes-Benz created a 14-metre motor yacht called "Silver Arrow of the seas," the concept beiing presented against the backdrop of the 2012 Monaco Yacht Show.
Mercedes-Benz Style's Silver Arrows motor yacht comes at more than 125 years after Gottlieb Daimler built the first motorised boat and cruised up the River Neckar. The 14-metre-long seagoing Granturismo combines design elements typical of Mercedes-Benz automobiles with innovations hitherto unknown in the boat industry.
The Silver Arrow of the Seas motor yacht is being developed and will be built by Silver Arrows Marine UK boat– building company, whose team includes world renowned marine architects Martin Francis and Tommaso Spadolini.
"Giving shape to a boat was an exciting challenge for automotive designers like we are," said Gorden Wagener, Head of Design Mercedes-Benz Cars, at the presentation of the yacht's design in Monaco. "Our task was to explore how to apply the Mercedes-Benz design language to the particular proportions and specific requirements of a boat. We wanted to create something special and what we have come up with is indeed unique. The 'Silver Arrow of the seas' embodies pure emotion and stands for luxury, style and pleasure."
At 14 metres in length, the new yacht's design makes it suitable for a wide range of uses. The innovative versatility and intelligent use of space are particularly impressive. While ideal for a day on the water with friends, the motor yacht can also offer overnight accommodation. The elegant and timeless interior appointments offer a level of comfort and luxury commensurate with the Mercedes-Benz name.
A special exhibition devoted to the history of the Silver Arrows amazing vehicles from 1934 to 1939 is to run from 11 October 2012 to January 2013 at the Louwman Museum in The Hague. Starring in this very special show will be a selection of stunning original vehicles from the Mercedes-Benz Classic collection, says the company.
The six exhibits on display in the "Silver Arrows 1934–1939" exhibition in the large hall of the Louwman Museum comprise the Mercedes-Benz racing cars W 25, W 125, W 165, and W 154, and also the 1936 12-cylinder W 25 record car. The record car will be displayed with a replication of the fully streamlined body made for this extraordinary vehicle, with the original body shown alongside as a separate installation.