McLaren Automotive reveals details and images of 2013 12C Spider luxury convertible sports car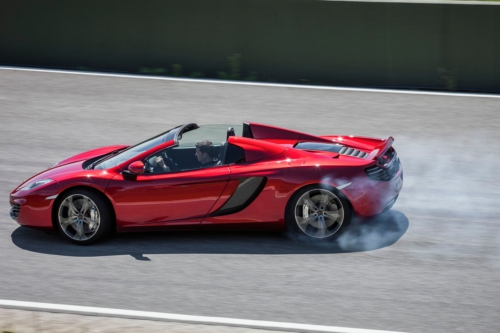 McLaren Automotive launched its second vehicle in the MP4-12C family: the new 12C Spider, a new luxury convertible sports car; a variant of the 12C. The 12C Spider is lightweight with a high powered engine which boasts 616 bhp, a unique Retractable Hard Top (RHT) folding roof system, and a carbon 'MonoCell' chassis identical to that of the groundbreaking 12C coupe.
Antony Sheriff, McLaren Automotive Managing Director said: "I am really excited to announce that the new McLaren 12C Spider is now available to order at new McLaren retailers worldwide. The launch of our second model is an exciting milestone in the growth of our company.
"While the McLaren12C is the technological essence of a race car, the 12C Spider incorporates an additional dimension. 12C Spider owners will love the opportunity to lower the roof and hear the unhindered howl of a V8 twin turbo engine at full throttle. It undoubtedly enhances an already euphoric 12C driving experience.
The 12C Spider's impressive 616 bhp output from its bespoke 3.8-litre V8 twin turbo engine is transmitted to the car's rear driven wheels through a 7 Speed SSG dual-clutch transmission, which itself provides lightning-fast gear changes through rocker-mounted shift paddles affixed to the rear of the steering wheel. A clear view of the 12C Spider's lightweight M838T power plant is available through a glass screen positioned behind the tonneau cover.
The new 12C Spider will be priced from $265,750* in the US. Launched in Volcano Red – one of 17 exterior paint finishes currently available for the 12C and 12C Spider- both 12C derivatives will also be available in optional Volcano Yellow, a striking new paint which features in the 'Elite' range of exterior finishes.