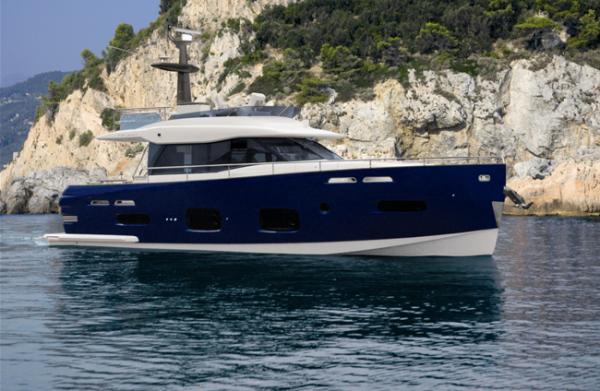 It looks to the yachts of the past but develops their lines and differentiates itself from them all. Azimut Magellano 50 is the world's first 50-foot motor yacht to be able to sail continuously, thanks to its Class A homologation and its RINA Green Plus certification for maximum respect of the marine environment.
Azimut Magellano 50 is the first – in the New Classic yacht category – to offer light and large windows on the entire lower deck, the first 50-footer to offer a bow saloon to enjoy the company of friends also in port shielded from indiscreet eyes, but even more, the world's first 50-foot motor yacht to offer four alternative layouts below deck. And finally, Magellano 50  is the world's first yacht to avail itself of the new Easy Hybrid Plus system, designed exclusively by the Azimut-Benetti R&D Department, for sailing at up to 8 knots with electric engines, in total silence and maximum simplicity.
The "Green Plus" certification by RINA is another feather in the Magellano 50's cap, which conforms to all the necessary requirements: from its low-emission engines (the Azimut Magellano 50 has two spanking new latest-generation 425 mHP Cummins common rail engines, with electronically managed consumption) to its maximum performance propellers, from its solar panels for keeping the batteries charged to the anti-UV films to decrease the heat exchange along the glass surfaces, from the consumption and tank level tracking with loading and unloading history to the infusion lamination of the main fiberglass components, a process that takes place in the Azimut facility of Avigliana, also ISO 14001 Environment certified. A second certification, FSC, guarantees that the wood used on board comes from forests that are properly managed. The work process is eco-friendly so it also respects social standards.
The Magellano 50 is also offered with hybrid propulsion, an optional chosen by many owners considering the advantages it offers: almost total elimination of noise and vibration (up to 80%) which means significant comfort while sailing and a further reduction in consumption during short dailyoutings.
The hybrid propulsion uses two 20-kilowatt electric motors connected to batteries, alongside the traditional engines. The batteries are charged while docked and supplied by the onboard generators. The electric motors run when the diesel engines are off, pushing the Magellano 50 to a maximum speed of 8 knots. As soon as a higher speed is requested the conventional engines kick in. The passage from one propulsion system to the other may occur automatically (depending on owner choice) and the pilot only has to decide at what speed to drive the yacht, without doing anything else.