Gucci released its second shoppable video
You could click on hyperlinks on web pages in order to find out more about references and sources of what you were reading. Why not videos? Gucci is making interactive shoppable videos a reality. The luxury brand released its second shoppable video featuring products from Gucci Cruise Spring Summer 2012 collection.
By making the videos commerce-enabled, Gucci want to increase its ecommerce sales and measure the success of the video more easily, says luxury daily.  While other brands have to rely on YouTube views or the number of shares to help track the success of their videos, it is hard to translate these numbers over to measurable sales effect.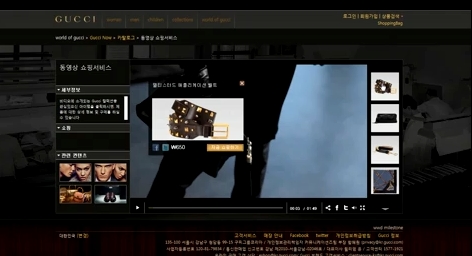 Unfortunately, most luxury brands are missing out on possible e-commerce sales when they do not make the videos shoppable. Busy affluent consumers may see a video but not have the time to track down a particular item in the brand's e-commerce store.
"Luxury brands spend a lot of time producing quality videos for their sites," said Jeff Beaman, CEO of Clikthrough, San Francisco. " Yet they often keep the videos on different sections that often don't contain any information on the products featured in the videos.
The benefits are already starting to prove themselves. Accoding to luxury daily, Gucci's first shoppable video saw a click-through rate of 83 percent and the final click-through for "buy it now" was approximately 5.8 percent. However, there are a few best-practice tips that brands can put in place when creating the video content.
"For fashion videos, the most important piece is to keep the products in focus long enough to allow people to see it and then react," Mr. Beaman said. "It's also good to show off multiple angles through small movement such as walking, spins and twists.
"These give viewers a chance to see how the products look from different angles and possibly different lighting," he said. "It gives more information than a picture or a description could give.
"We feel video should bring value and focus on giving fashion viewers sensory information they couldn't get through other media."