Sotheby's to Offer Roy Lichtenstein's Iconic Sleeping Girl From 1964 in New York on 9 May 2012
Roy Lichtenstein's Sleeping Girl (1964) – one of the high-points of the artist's comic book inspired paintings and an icon of Post-War American art, is expected to fetch up to $40 million when it is sold at  Sotheby's auction in New York in May.
In the 48 years since its purchase, Sleeping Girl has been exhibited only once, in the 1989/ 90 Museum of Contemporary Art, Los Angeles exhibition Selections from the Beatrice and Philip Gersh Collection.
The sexy blonde women of the comic book series are not only one of the most instantly recognizable icons of the Pop Art movement but continue the long, rich tradition of artists' celebrations of the sleeping female form. Paintings from this series are featured in the collections of major institutions throughout the world, such as the Museum of Modern Art, New York, and this work has remained in private hands for the past 48 years. Sleeping Girl is estimated to sell for $30/40 million and will be shown in Los Angeles, Hong Kong, London and New York prior to the auction on 9 May.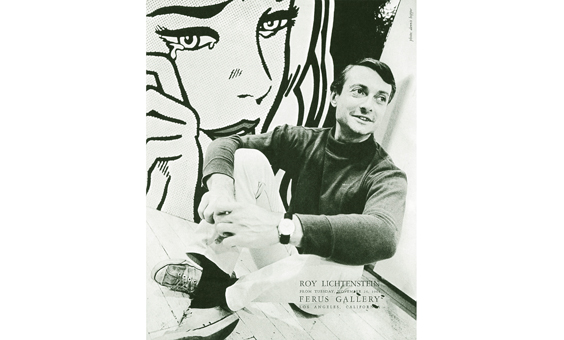 Sleeping Girl has not appeared on the market since it was purchased by noted West Coast collectors and philanthropists Beatrice and Phillip Gersh, from the Ferus Gallery in 1964. The Gershes were founding members of The Museum of Contemporary Art in Los Angeles (MOCA) and part of a distinguished group of collectors who established the modern and contemporary art scene in the region.  Their commitment to supporting the arts in Los Angeles is evidenced in part by their generous donations of several major works to MOCA including Cubi III (1961), a stainless steel sculpture by David Smith and Jackson Pollock's seminal painting Number 3, 1948 (1948), both of which are currently on view at MOCA as part of A Tribute to Beatrice and Philip Gersh: Gifts to The Museum of Contemporary Art through 27 February 2012.  Passionate collectors, they rarely loaned their works to museum exhibitions, preferring to keep them at home.
In the 1960s, The Ferus Gallery in Los Angeles was the port-of-call for all burgeoning collectors on the West Coast.  The gallery championed the careers of artists such as Andy Warhol, Ed Ruscha and Roy Lichtenstein, to name a few.  Legendary dealer Irving Blum was at the helm of the Ferus Gallery when Sleeping Girl was purchased by the Gershes.  At the time, works by Lichtenstein were rare and highly sought-after and he recalled that "Bea fought like a lioness for that painting."
This transformation of mass-produced commercial images into the realm of Fine Art is unequivocally one of the most important principles of 20th century art practice, and Sleeping Girl is its crowning achievement. Sleeping Girl is the highpoint of Lichtenstein's most acclaimed and sustained body of work, painted between 1961 and 1965, and stands out as the clear masterpiece among the single-figure, square-format paintings of women from 1964, with a perfect harmony of size, composition and color.