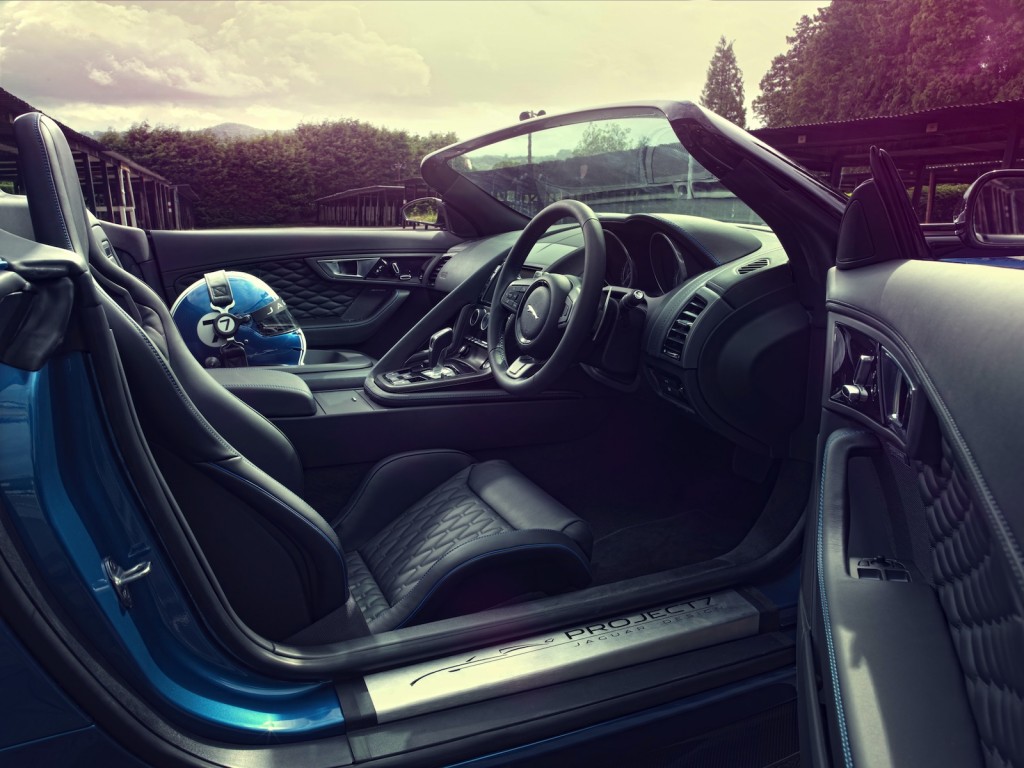 Jaguar PROJECT 7, an all-new, two-seat convertible sports car and winner of the 2013 'World Car Design of the Year' award, made a dynamic debut at the 2013 Goodwood Festival of Speed on July 12. Project 7 is an all-aluminum bodied roadster featuring a Jaguar D-Type inspired fairing, bespoke carbon-fiber aerodynamic components, and a single-seat cockpit. Powered by a 5-liter supercharged Jaguar V8 engine with 550hp, the car will reach 60mph in 4.1 seconds and attain a top speed of 186mph.
"Project 7 is a single-seat sports car based on the F-TYPE, with the kind of racing-inspired form that designers dream about. It has one purpose: to be driven fast and enjoyed.Jaguar sports cars are known for exceptional performance and clean design. Project 7 captures that spirit in its purest form," said Ian Callum, Director of Design, Jaguar.
Project Le Mans's name acknowledges Jaguar's winning of Le Mans seven times between 1951-1990, and its blue paintwork is reminiscent of the victorious Jaguar D-type cars of 1956/1957.
"The overriding dynamic aim when developing the F-TYPE was ensuring connected feel; it's a true, driver-focused sports car; agile, immediate, fast and, of course, fun. Having achieved that for the road, Project 7 has given us a unique opportunity to go that little bit further. It's visceral in every sense – its response, its sound and its sheer performance. I'm very much looking forward to driving it at Goodwood," said Mike Cross, Chief Engineer, Vehicle Integrity, Jaguar.
"When I saw this sketch of a low-screen, single-seat F-TYPE, I felt enthused by it and wanted to take it further. As designers, our very purpose is to disrupt – to turn the norm on its head and see if it still works – and here at Jaguar, we love to push the boundaries. As a team our challenge was to take this gem of an idea, work within the limitations of production feasibility, and create something worthwhile. So I encouraged Cesar and AlisterWhelan, Chief Designer, Jaguar, to take it to the next stage and develop a workable concept, and with the support of key departments across the business, Project 7 was born," explained Ian Callum, Director of Design, Jaguar.