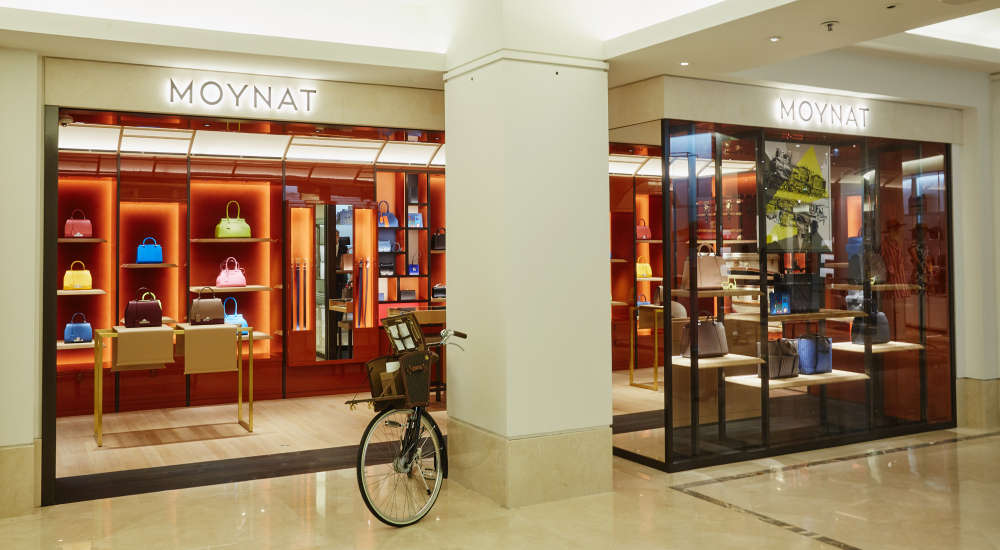 As blue as the summer skies, the petite Ballerine in Veau Carat in Azur reigns in the newly opened Moynat store at Le Bon Marché Paris. Moynat has crossed the Seine for his first ever Left Bank store, a "gallery" boutique and a tribute to Moynat's discreet and elegant French style.
Designed by architect Gwenael Nicolas, Director of the Curiosity studio in Tokyo, the "gallery" in Le Bon Marché repeats the disctinctive curves of Moynat's Limousine trunk. The space boasts niches with leather finishing where Moynat creations are displayed like precious objects in a cabinet of curiosities.
"This is an elegant meeting of two renowned houses with virtually identical histories that share an inimitable Parisian spirit, houses dedicated to the pursuit of refined excellence and a meticulous attention to detail," said Moynat President Guillaume Davin.
Along with crossing Seine, the French luxury house entered a new Instagram era. Atelier Franck Durand shoot for Moynat a series of portraits of influential contemporary Paris personalities: jewelry designer Elie Top, designer Louis Marie de Castelbajac and writer Natasha Fraser-Cavassoni, among others. The photographic promenade along the streets of the French capital was revealed one after the other on Moynat's Instagram account.