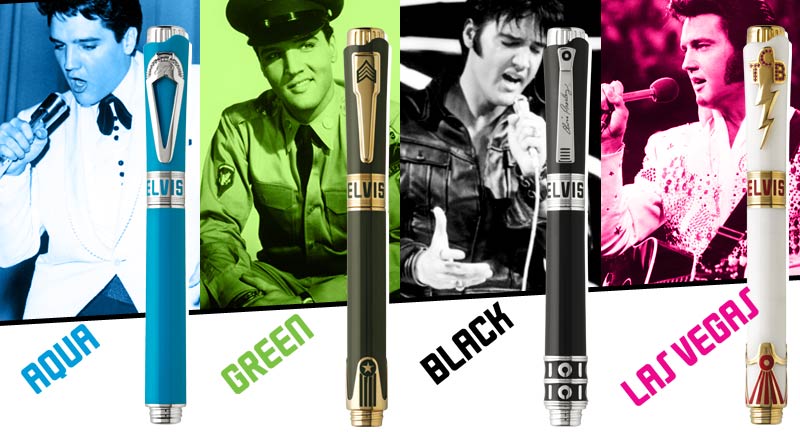 Montegrappa, one of the oldest manufacturer of high-quality writing instruments, inaugurated its second century with a series of "Icons Tribute To Elvis Presley" luxury pens in honor of Elvis. With this new collection, Italy's most revered manufacturer of luxury writing instruments, continues its tradition of honoring globally-recognized individuals who have achieved greatness in a variety of fields. Muhammad Ali, Bruce Lee and Frank Sinatra are some of the great names celebrated with state-of-the-art pens.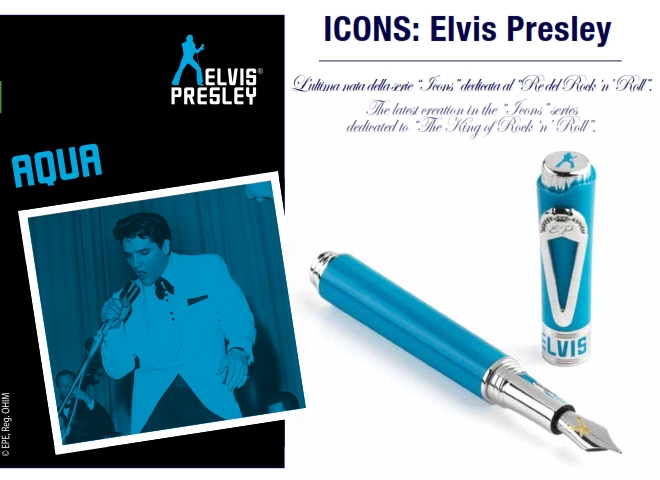 Aqua, Green, Black and Las Vegas models will represent important phases in Elvis' career from 1954 to 1977. The number "4" recalls the legendary "Million Dollar Quartet" of Elvis, Johnny Cash, Carl Perkins and Jerry Lee Lewis, the pioneering Sun Records artists who met for one occasion only, and the date on which it occurred, December 4th, 1956.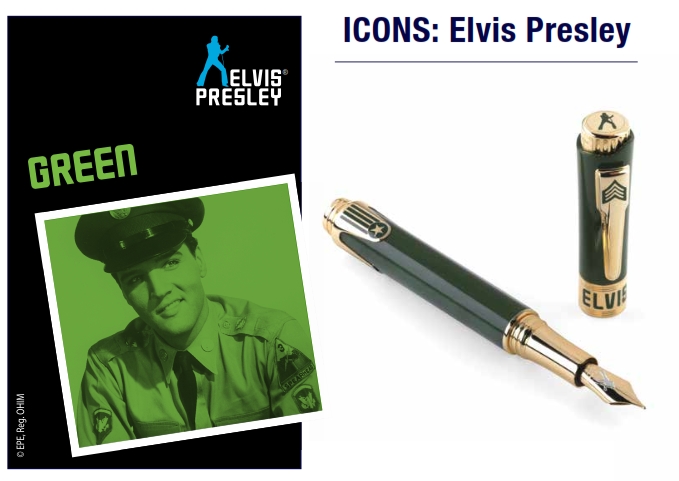 Montegrappa will release 500 fountain pens, 500 roller balls and 973 ballpoint pens of this edition. The gold version will be released as 14 fountain pens, 14 rollerballs and 14 ballpoint pens, totaling 42 in honor of his age when he passed away in 1977.
Each pen possesses a resin body in a color suggestive of the each era, with silver accents also representative of the period. The fountain pen nibs are engraved with the full-height profile of Elvis at the microphone. Other details unique to each pen and the packaging also denote the specific stage of Elvis' career, and is accompanied by a CD of Elvis' Greatest Hits, announced Montegrappa.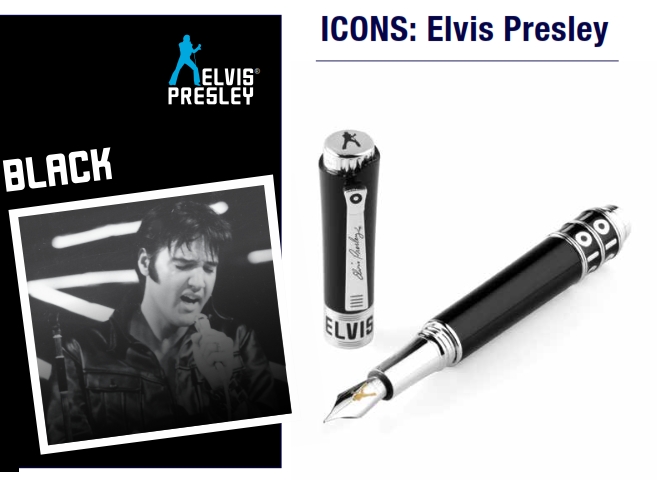 The 1950s are represented by Aqua, blue automobiles and early electric guitars. Green is the color that marks 1958, the year Elvis was drafted into the US Army. "Icons Tribute To Elvis Presley – Black" represents 1968 – the year of Elvis' "comeback special," in which he wore his famous black leather outfit. 1973 – the year of the ground-breaking "Aloha From Hawaii" broadcast inspired Montegrappa Elvis white model. This period was also noted for Elvis' Las Vegas appearances, and his signature jumpsuits with gem-stone accents.