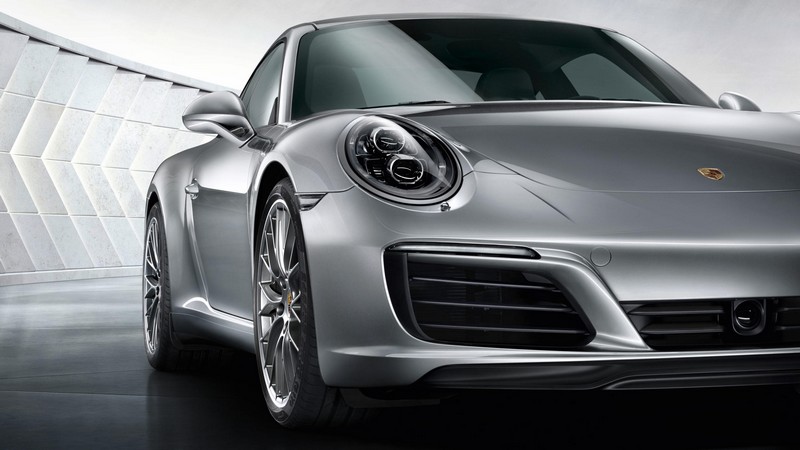 Porsche is coming to the 2015 Frankfurt Motor Show with new engines and new driving tech for 2016 Porsche 911 Carrera. The fastest 911 Carrera ever now features new turbocharged engines, an advanced chassis, and new Porsche Communication Management.
Many exterior features of the 911 Carrera have been visually refined from new headlights with four-point daytime running lights to integrated door handle recesses, a redesigned rear deck lid with vertical louvers, and new rear lights – including the characteristic four-point brake lights. The new standard Porsche Communication Management system with a multi-touch display offers an expanded range of functions and simplified usability.
The 3.0 liter engine in the standard Carrera now develops 370 hp. Using turbochargers with modified compressor wheels, a model-specific exhaust system, and a different tune for the engine management system, the 911 Carrera S delivers 420 hp from the same displacement.
The 911 Carrera Coupé with Porsche-Doppelkupplung (PDK) and Sport Chrono Package sprints from zero to 60 miles per hour in 4.0 seconds – making it two tenths of a second faster than its predecessor. The 911 Carrera S with PDK and Sport Chrono Package needs just 3.7 seconds (also 0.2 s faster). Both models reach higher top track speeds: the 911 Carrera is now able to reach 183 miles per hour, while the 911 Carrera S can achieve up to 191 miles per hour. All new Carrera variants are offered with a manual seven-speed transmission as standard.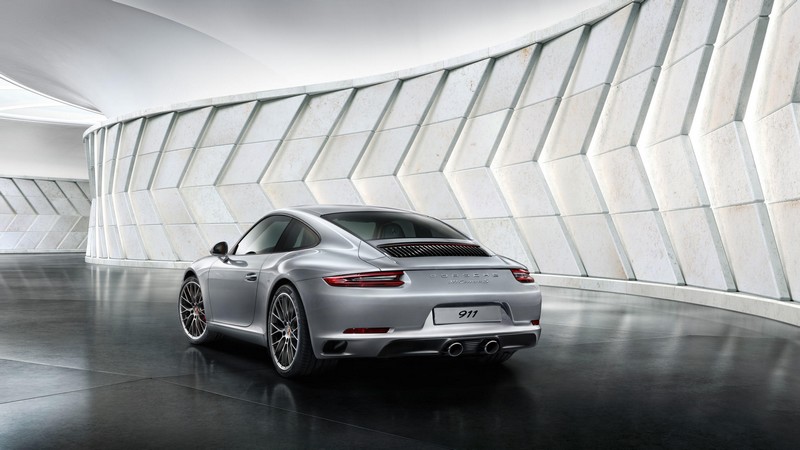 On the new generation, Porsche has increased the dynamic capability even further than before. The revised PASM chassis
(Porsche Active Suspension Management), which lowers the ride height by ten millimeters, is a standard feature. It helps improve driver control during fast cornering. New shock absorbers enhance comfort thanks to an even more precise response characteristic and improved body control during spirited driving. New standard wheels with five twin spokes are equipped with tires that offer reduced rolling resistance and enhanced grip. Furthermore, the width of the rear rims has been increased by 0.5 to 11.5 inches on all variants.
A standard feature of the new 911 Carrera models is the newly developed Porsche Communication Management System (PCM), including an online navigation module. The PCM can be operated by multi-touch gestures on the seven-inch display, similar to a smartphone. Handwritten user inputs are recognized. Mobile phones and smartphones can now also be connected via Wi-Fi. Also new is the option of connecting an iPhone® to the PCM to utilize Apple CarPlay.
The 911 Carrera also offers enhanced active safety through new and improved assistance systems. Post-collision braking is a standard feature, and the cruise control now brakes moderately when the pre-set speed is exceeded, for example when driving downhill. The Adaptive Cruise Control (ACC) option has been upgraded with a coasting function in conjunction with the PDK transmission. The optional Lane Change Assistant monitors traffic approaching from behind with radar and uses LED lights to the left and right of the mirror triangle to warn the driver of vehicles in the blind spot.
The new Porsche 911 Carrera models will be launched in the United States in March of 2016. Manufacturer's suggested retail prices start as follows: 911 Carrera – $89,400; 911 Carrera S – $103,400; 911 Carrera Cabriolet – $101,700; 911 Carrera S Cabriolet– $115,700.