Green guest services shuttle with zero emission
John Q. Hammons' Embassy Suites Nashville S./Cool Springs' Guest Shuttle Goes Green with First-Ever All-Electric Stretch Limo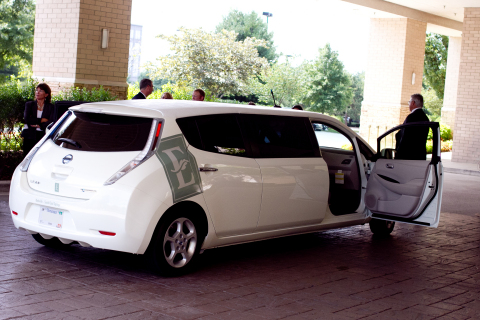 The world's first all-electric stretch limo is a 7-foot-9-inch Nissan Leaf limousine introduces at Embassy Suites Nashville South/Cool Springs. In addition, the hotel launched on-site guest electric-car charging stations as a part of its latest eco-friendly amenities.
"The geo traveler is looking for places to stay that value and nurture our resources," said Susan Whitaker, commissioner, Tennessee Department of Tourist Development. "Embassy Suites Nashville South/Cool Springs' debut of the world's first all-electric limo guest shuttle is a prime example of the hospitality and tourism industry stepping up efforts to address the demands of the sustainable traveler and convention goer."
The roadworthy, licensed electric limousine conversion was 12 months in the making. The idea was conceived by the hotel team at Embassy Suites Nashville South/Cool Springs along with the hotel's transportation partner Black Tie Valet Solutions.
Imperial Coach Builders in Springfield, Mo., brought the big idea to life, adding 400 pounds and about 4 feet to the center of the car to make room for more seating, totaling eight seats. Additional mirrors, plush leather and cedar wood trim were also added to create a more luxurious experience.
The 250-suite, nine-story Embassy Suites Nashville South/Cool Springs hotel is operated by Springfield, Mo.-based John Q. Hammons Hotels & Resorts, the largest private, independent owner and manager of hotels in the United States.