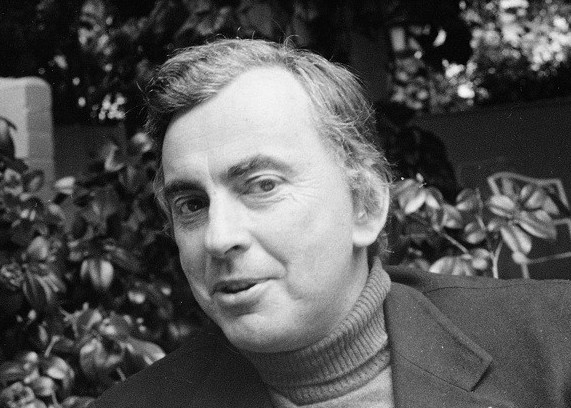 This article titled "Gore Vidal obituary" was written by Jay Parini, for The Guardian on Wednesday 1st August 2012 09.45 UTC
Gore Vidal, the American writer, controversialist and politician manqué, who has died aged 86, was celebrated both for his caustic wit and his mandarin's poise. His public career spanned seven decades and included 25 novels, numerous collections of essays on literature and politics, a volume of short stories, five Broadway plays, dozens of television plays and film scripts, and even three mystery novels written under the pseudonym Edgar Box. After 9/11 and the invasions of Iraq and Afghanistan, he returned to centre stage with a series of blistering pamphlets and public pronouncements that led many, including his former friend Christopher Hitchens, to pounce on him. But Vidal never looked back.
Despite his output as a novelist and playwright, many critics considered Vidal's witty and acerbic essays his best work. Often published first in such journals as the New York Review of Books and the Times Literary Supplement, they were collected at regular intervals between the novels. In 1993, his volume United States: Essays, 1951-91, received the National Book award. As Stephen Spender wrote in a review, "Vidal's essays celebrate the triumphs of private values over the public ones of power. They represent the drama of the private face perpetually laughing at, and through, the public one. At the same time, their seriousness lies very largely in his grasp of the conditions and characteristics which make up the public world." Vidal liked to present himself as an insider – a man who understood the world and how it worked. This knowing quality, registered in the tone of his prose, permeates the essays. Their edge and vitality derive from his complete mastery of the scene he described, whether ridiculing Ronald Reagan as "a triumph of the embalmer's art", reassessing the presidency of John F Kennedy, outlining the theory of the French "new novel" or reconsidering the importance of Montaigne or Somerset Maugham.
Vidal's critics disparaged his tendency to formulate an aphorism rather than to argue, finding in his work an underlying note of contempt for those who did not agree with him. His fans, on the other hand, delighted in his unflagging wit and elegant style.
Probably no other American writer since Ernest Hemingway lived his life so much in the public eye. His father was Eugene Vidal, Franklin Roosevelt's director of air commerce from 1933 to 1937. His maternal grandfather was the senator Thomas Gore, a commanding figure in Washington politics for many decades. His mother, Nina Gore Vidal, divorced his father in 1935, then married the financier Hugh D Auchincloss, who in turn divorced her and married Jacqueline Kennedy's mother, thus establishing a connection between Vidal and the Kennedy clan that persisted through the presidency of John F Kennedy. Vidal's unflattering view of the Bouvier sisters was registered in Two Sisters (1970).
In 1940, he entered the Phillips Exeter Academy in New Hampshire, where he was an indifferent student. After leaving in 1943, he joined the Army Transportation Corps as an officer, whereupon he was sent to the Aleutian Islands. In December 1944 he began his first novel, Williwaw. Suffering a bad case of frostbite, Vidal was invalided back to the US, where he finished the novel in less than a year. Williwaw focused on a rivalry between two maritime officers; in style it owed something to Hemingway and Stephen Crane. For a writer barely out of his teens when it was published, in 1946, the book was an unusual achievement. He was compared favourably to the best writers of the generation, including Norman Mailer, Truman Capote and Saul Bellow.
Vidal worked briefly in publishing in New York, but the critical success of Williwaw emboldened him, and he decided to live by his pen. Having little money, he moved to Guatemala, where he shared a house with Anaïs Nin, who wrote a good deal about him (some of it not very complimentary) in her diaries.
By any standard, the postwar years were amazingly productive for Vidal, who published eight novels between 1946 and 1954, including The City and the Pillar (1948), an explicitly gay novel that challenged the homophobia he believed was ingrained in American culture. It was a bestseller, but the consequences were severe, and Vidal's literary career nearly ground to a premature halt. His next five novels were largely dismissed by the mainstream press and one can feel the hostility in the reviews. The reaction of John W Aldridge was typical: "His writing after Williwaw is one long record of stylistic breakdown and spiritual exhaustion. It is confused and fragmentary, pulled in every direction by the shifting winds of impressionism. It is always reacting, always feeling and seeing; but it never signifies because it never believes."
After a period of wandering through Europe with his friend Tennessee Williams (in Paris he was greeted by André Gide as a prophet of the sexual revolution), Vidal settled along the Hudson River Valley. There, in 1950, he bought Edgewater, an impressive Greek revival mansion. He met his lifelong companion, Howard Austen, around this time. They lived together for 53 years, until Austen died in 2003.
Always intent on living well, Vidal needed more money than his fiction attracted, and turned to television, Hollywood and Broadway to expand his income. "I am not at heart a playwright," he explained at the time, with typical candour. "I am a novelist turned temporary adventurer; and I chose to write television, movies and plays for much the same reason that Henry Morgan selected the Spanish Main for his peculiar – and not dissimilar – sphere of operations."
His finest moment in the theatre was Visit to a Small Planet (1957), a play that ran for more than 300 performances on Broadway. This satire about a visitor from outer space who arrives in Virginia with the hope of starting a third world war recalls Wilde and Shaw, though it reverberates with Vidal's own unmistakable tone. The Best Man, a political play, was a hit in 1960, and was made into a widely acclaimed film starring Henry Fonda, with a script by Vidal, in 1964. It has been successfully revived many times, including in 2012 on Broadway.
Vidal's screenwriting assignments included a vivid adaptation of Williams's Suddenly, Last Summer, in 1959. He also revised the final script of Ben-Hur (1959) for William Wyler, although he did not receive a screen credit. To the end, he kept a hand in screenwriting and also played minor parts in several films, most notably as a senator in Bob Roberts (1992).
Having harboured political ambitions since adolescence, Vidal tossed his hat in the ring in 1960, running for Congress as a Democrat in New York's traditionally Republican 29th District. He spoke out for the recognition of communist China, limiting the Pentagon's budget and increasing federal aid to education. Not surprisingly, he lost the election, though he made a respectable showing at the polls. In 1982, he ran in the Democratic primary for the US Senate in California, although he was beaten for the nomination by Jerry Brown.
Vidal's politics were always on the left side of the spectrum, and he derided the two-party system in his native land, arguing in the 1970s: "There is only one party in the United States, the Property party … and it has two right wings: Republican and Democrat. Republicans are a bit stupider, more rigid, more doctrinaire in their laissez-faire capitalism than the Democrats, who are cuter, prettier, a bit more corrupt – until recently … and more willing than the Republicans to make small adjustments when the poor, the black, the anti-imperialists get out of hand. But, essentially, there is no difference between the two parties."
Soon after losing his first election, Vidal moved to Italy, where he would spend the bulk of each year until 2003, when he moved to a large home in the Hollywood Hills after Austen's death. In Rome, where for several decades he kept an apartment overlooking the Largo Argentina, he wrote Julian (1964), a bestselling novel about the enigmatic Roman emperor who rejected Christianity and embraced paganism. This novel brought together preoccupations that had been present in his fiction from the beginning, such as the perceived hypocrisy of Christianity and a fascination with power. Vidal's attraction to the ancient world yielded another popular novel, Creation, in 1981.
The late 1960s were a heady time for Vidal, who feuded with William F Buckley on TV during the Chicago presidential convention of 1968 – those debates are enshrined in the memory of most Americans of a certain era. That year, he lifted his satire to a new level of outrageousness with Myra Breckinridge. His narrator, Myra, was formerly (before a sex change) Myron, nephew of Buck Loner, a retired horse-opera star. A proto-feminist, Myra opens the novel boldly: "I am Myra Breckinridge whom no man will ever possess."
Of all his works, it is his sequence of novels on American history that may be his most lasting achievement. Vidal, however, had nothing like a sequence in mind when he published Washington, DC (1967), a fairly conventional novel about politics during the era of FDR. While there is much to admire in the book, nobody could have foreseen how Vidal's American chronicle would unfold. Burr, the next to appear (in 1973), brings into play virtually all the author's various talents. It was finished about the time Vidal moved from Rome to Ravello, where he purchased La Rondinaia, a palatial villa perched on a cliffside overlooking the Mediterranean Sea. The narrative voice in Burr belongs to Charlie Schuyler, a young law clerk and journalist who works for Aaron Burr, the man who killed Alexander Hamilton in a duel in 1804 and who, two years later, initiated a secessionist conspiracy that challenged the assumptions of America's founding fathers, all of whom Burr knew well.
Next came 1876 (published in 1976), a novel that continued the story of Schuyler, who returns to New York on the eve of America's centennial year. It draws a portrait of the gilded age with an acid pen and an eye for authentic, and telling, detail. Schuyler takes in everything from a discreet distance. He sees, but is rarely seen – the ideal Vidalian narrator. Vidal's readership had expanded after Julian, but Lincoln (1984) was a huge bestseller. The very weight of the historical material pushed the author to one side (and it is to Vidal's credit that he knew enough to stay in the background). Joyce Carol Oates suggested that Lincoln was "not so much an imaginative reconstruction of an era as an intelligent, lucid and highly informative transcript of it, never less than workmanlike in its blocking out of scenes and often extremely compelling. No verbal pyrotechnics here, nothing to challenge a conservative aesthetics biased against the house of fiction itself. By subordinating the usual role of the novelist to the role of historian-biographer, Mr Vidal acknowledges his faith in the high worth of his material."
The last three books in the sequence – Empire (1987), Hollywood (1990) and The Golden Age (2000) – in many ways constitute one novel appearing in three instalments. Vidal was uncanny in the way he linked his heroes and heroines to history and to each other. As Richard Poirer noted in a review of Empire: "Vidal manages inextricably to mix the fictive and the historical, the social and the legendary. These elements are so fused in his style that none can be differentiated from the others. All partake of the same issues of inheritance, legitimacy, rivalry, deception and ambition." The Golden Age brings the series full circle, revisiting the Roosevelt era, when Vidal was on the scene as a young man in Washington.
Vidal continued to write satires, alternating them with his American historical novels. These included Myron (1974), a sequel to Myra Breckinridge; Duluth (1983); and Live from Golgotha (1992). He also wrote two satires on apocalyptic religion: Messiah (1954) and Kalki (1978). The historical and satirical veins of his writing mingled dexterously in The Smithsonian Institution (1998), a slight, whimsical novel about a 13-year-old boy wandering through the museum of history.
He published a gossipy but moving memoir, Palimpsest (1995), which cut back and forth between the author's present, mostly in Ravello, and his first four frenetic decades. Portraits of his friends and enemies were sharply drawn, including the Kennedys, Paul Newman and Joanne Woodward, Mailer, Capote, Jack Kerouac, Eleanor Roosevelt and the Duke and Duchess of Windsor. He followed this memoir with two sequels, Point to Point Navigation (2006) and Gore Vidal: Snapshots in History's Glare (2009), a volume of photographs and brief recollections.
Vidal seemed to have known everyone and been everywhere, slipping easily from the political corridors and back rooms of Washington to the poolside patios of Hollywood and the salons of European writers and intellectuals. His witty remarks became the stuff of tabloid gossip, as when a friend asked him to be the godfather of his new child, and Vidal quipped: "Always a godfather, never a god." When his editor in New York telephoned with the news that Capote had died, he responded: "A wise career move." Another time, he remarked: "Whenever a friend succeeds, a little something in me dies."
Although one can easily find connections between Vidal and previous American writers, from Mark Twain and Henry James to HL Mencken and Edmund Wilson, he remained sui generis – an American original.
Vidal is survived by his half-sister, Nina, and half-brother, Tommy.
• Gore Vidal, writer, born 3 October 1925; died 31 July 2012
guardian.co.uk © Guardian News & Media Limited 2010
Published via the Guardian News Feed plugin for WordPress.