Mumm popped the cork of the world's first digitally connected champagne bottle.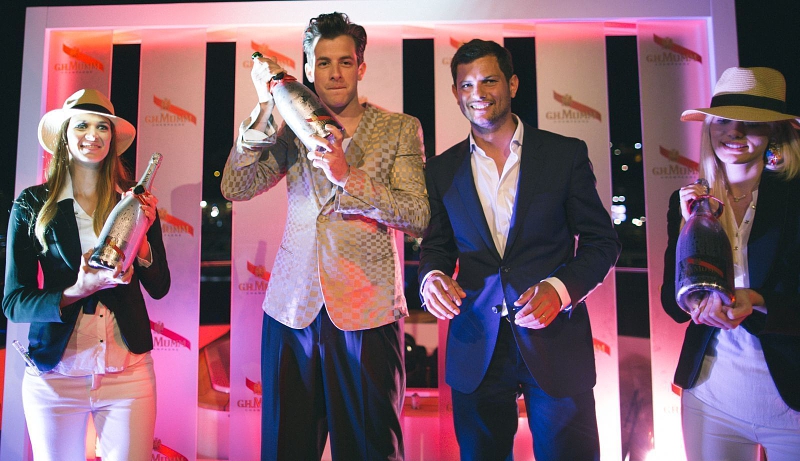 A very special night took place during last Monaco GP. At this year's Monaco Grand Prix, Maison Mumm (part of Martell Mumm Perrier-Jouët) hosted a private event with international musician Mark Ronson to launch the world's first digitally connected champagne bottle.
The connected Mumm is an innovation designed to enhance the celebration experience. The launch is inspired by the thrill and emotion of the world's most recognised moment of celebration, the Formula One podium, which Mumm has been at the heart of since 2000. The moment the cork is popped from this connected Magnum a sensor links to a receiver in the venue's audio and visual system triggering an interactive sound and visual experience that can be personalised by each prestigious nightclub hosting this offering.
Celebrating this friendship with the launch event, Ronson was also invited to share in the world's most iconic moment of victory and present the winning Mumm Jeroboam to Nico Rosberg on the 2015 Monaco Grand Prix podium.
"Launching the world's first connected champagne bottle with Mumm and handing the Jeroboam to Nico Rosberg at the Monaco Grand Prix was an incredible experience, and one I feel very privileged to have been a part of," Mark Ronson said about the experience. "Mumm's ambition to bring innovative firsts to the world is extremely inspiring and when I popped the cork of the Magnum of Mumm it was an unforgettable moment of celebration."
"The launch of this ground-breaking initiative with Mark Ronson propels Mumm's on-going mission to be an icon of victory, to bring innovative firsts to the world, and ultimately to create truly thrilling experiences that enhance the moment of the champagne celebration," commented Philippe Guettat, Chairman and CEO for Mumm House of Champagne.