Germania Nova can confidently claim to have proven her racing potential
The gaff-rigged schooner Germania Nova, a stunning recreation of the famous GERMANIA of 1908, can confidently claim to have proven her racing potential at Palma's 20th Superyacht Cup, the longest running superyacht regatta in Europe and the second largest event on the global superyacht racing calendar.
This regatta is a favorite of yacht owners, friends, captains and crew who visit Palma de Mallorca annually in June for the four-day gathering. The 2016 SuperYacht Cup was particularly historic having reached its 20th edition; this year the event welcomed three stunning classic schooners to the 22-strong fleet.
Germania Nova, the largest yacht in the regatta at nearly 60-meter (she currently is for sale and charter with Northrop & Johnson), the superyacht Cup marked her first race outing since her launch in 2011. The question was: could she live up to the outstanding racing history left by her predecessor.
That original Germania was built for Dr. Gustav Krupp. She won the 1908 Cowes Week and was victorious at numerous other regattas except — for obvious reasons — when competing against Kaiser Wilhelm's yacht Meteor. In 1912, the original Germania competed in 19 regattas, winning 10 and coming second three times. Her racing career ended with the outbreak of World War I. In 1930, she sunk in a storm off Key Biscayne when her anchor dragged.
Germania Nova typically cruises with a crew of 12 thanks greatly to her almost-invisibly integrated modern systems, such as hydraulic sail handling, which did not feature on the original. However, in preparation for her racing debut, and to achieve her full potential, the number of crew was increased to 33.
The day before the regatta started in earnest, there came an opportunity for the crew to test their skills in the company of other yachts. Not just any yachts, but against those in the Big Class Day Sail. This was an incredibly special event that will be remembered for years to come when eight classic and recreation schooners sailed the Bay of Palma together.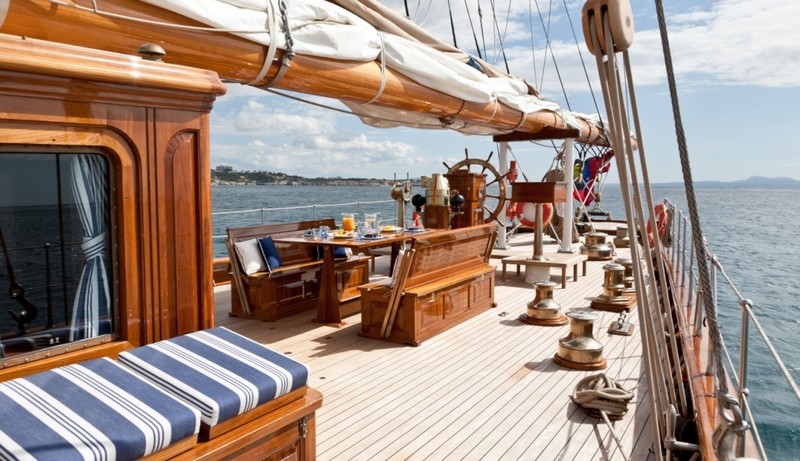 When finally the time came to race for real, germanianova and her crew did themselves proud. Although always placed third on corrected time, their position on the water improved daily from third to second and then to first on day three. All the while GERMANIA NOVA's breathtaking elegance captured the hearts of all who saw her.
The Superyacht Cup is the first superyacht regatta to engage crews and owners in joining the race to restore ocean health with Sailors for the Sea's Clean Regattas programme. The ocean is in crisis with plastic waste, oil spills and acidification threatening not only marine life but also our health for generations to come.