G.H Mumm Official Sponsor of the Formula 1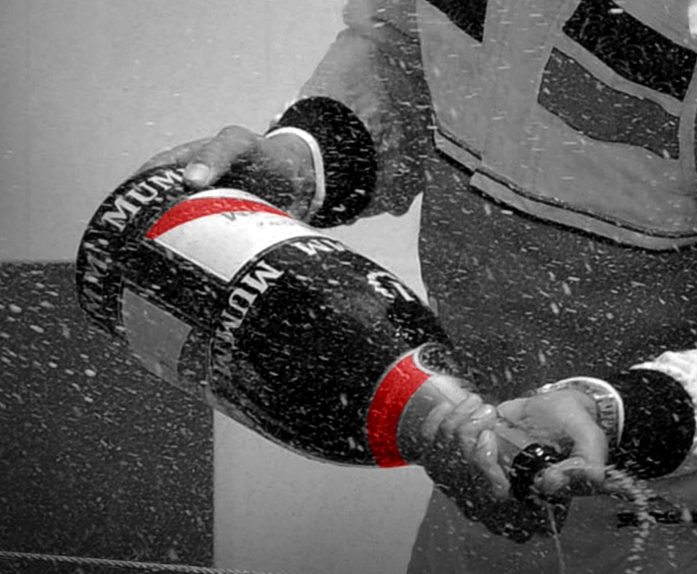 Since more than 10 years now, G.H. MUMM has been the champagne befitting any celebration, taking centre stage during the magic moment that caps a superlative victory ceremony. The champagne house announced the renewal of its international partnership with Formula One.
"Since 2000, G.H. Mumm has been the official champagne of Formula One and I believe that we share these same values of excellence, performance and thrill. A driver in F1 has no choice but to excel all the time, just like our Champagne house," said Lionel Breton, Chairman and CEO of Martell Mumm Perrier-Jouët.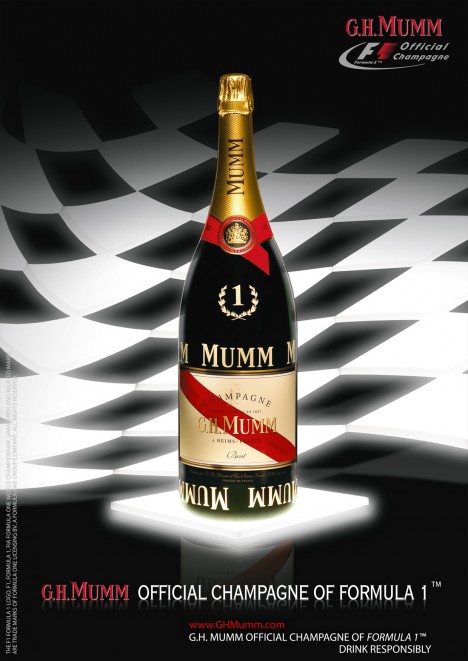 The Jeroboam of G.H. MUMM Cordon Rouge awaits each winner on the podium of every Formula 1 Grand Prix. In 2000, the House of G.H. MUMM signed the agreement with All Sport Management, making official what had been part of F1 victory celebrations since the creation of the World Championship in 1950. G.H. MUMM created also a high-end, masculine bag combining metal and carbon fiber-like texture to keep the Cordon Rouge bottle cool.
The legend began on 13 May 1950 when Formula 1 championship was created. The first Grand Prix race took place on the Silverstone Circuit in England, with the same distance as today's events, slightly over 300 km. The tradition of paying tribute to the winner with a bottle of champagne began that same year at the Reims-Gueux circuit in the Champagne region of France. But it was actually 16 years later when the prize-giving ceremony on the podium took the form that we now today. Jo Siffert, after winning his category of the 24 Hours of Le Mans, unwittingly enriched the tradition. On the podium, the cork popped out of his overheated bottle of champagne, showering the onlookers below. The following year, in 1967, Dan Gurney celebrated his victory by deliberately spraying the crowd, a gesture that is now a Formula 1 ritual.
This year the freshness and intensity of G.H.MUMM champagnes made a big splash at the Critics Challenge International Wine Competition. The House was voted Winery of the Year and 3 G.H.MUMM champagnes won awards: the Brut Cordon Rouge won a prize at the Los Angeles International Wine & Spirits Competition, and the Blanc de Blancs and the Brut Rosé also won 2 gold awards during the San Francisco International Wine Competition.
"This is a reward for my team and a tribute to their expertise and professional excellence," said Didier Mariotti, the Cellar Master.