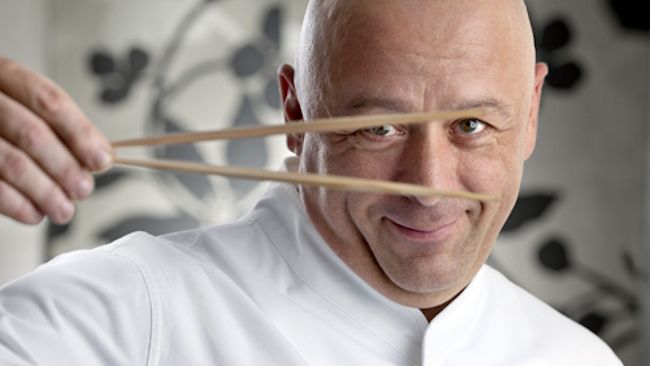 France recognized young and dynamic cookery by naming six young chefs to the Chevalier of the Order of Arts and Letters. Instead of rewarding emblazoned chefs, the nobility papers of the French Republic and in particular the title of Chevalier des Arts et des Lettres, would go to a group of young French chefs out of the ordinary.
The unprecedented move is considered a milestone in the field of gastronomy as the group is heavily influenced by non-French cuisine.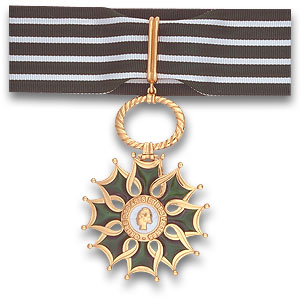 The group includes: Inaki Aizpitarte, Le Chateaubriand, Paris; Armand Arnal, La Chassagnette, Arles, France; Mauro Colagreco, Mirazur, Menton, France; Alexandre Gauthier, La Grenouillere, Montreuil-sur-Mer, France; Adeline Grattard, Yam'Tcha, Paris; Thierry Marx, Mandarin Oriental, Paris.
"I am very pleased today to pay tribute to the young generation rebellious, mixed and cosmopolitan of French gourmet chefs. In you six, you represent the new life, vitality and generosity of the French cuisine," Frederic Mitterrand, minister of culture and communication, said in the official speech.
"You are, Distinguished leaders, the guarantors of this heritage French. You serve with excellence, you renew, you know sometimes also demystify it. Cooking is signed, it is also flatter nature, and endless fun on terms of taste, texture, composition. And it is also the map of our society, its evolution, of his many influences, which can be read on our plates," added Frederic Mitterrand.
The Ordre des Arts et des Lettres (Order of Arts and Letters) is an Order of France, established on 2 May 1957 by the Minister of Culture, and confirmed as part of the Ordre national du Mérite by President Charles de Gaulle in 1963. Its purpose is the recognition of significant contributions to the arts, literature, or the propagation of these fields.
French government guidelines provide that citizens of France must be at least thirty years old, respect French civil law, and must have, "significantly contributed to the enrichment of the French cultural inheritance." Members are not, however, limited to French nationals. Recipients have included numerous foreign luminaries.
Here is the motivation of the awards presented by Frederic Mitterrand:
"Dear Inaki Aizpitarte
In another life, you would have liked to be Prime Minister, or Landscape: for our greatest happiness and that of our taste buds, you have made ​​the choice in this life, to make an appointment with the cuisine, where you excel. In a family where the Hispano-Basque simple, tasty dishes were put, you have impregnated multiple odors and flavors.
Adventurous taste in mind rock'n'roll, extremely inventive, you love However, conflict resolution (in kitchen): the flavors you use face but always end up getting married and agree. In your art, there is something which falls under the passionate flavor.
After a job as a dishwasher in a restaurant in Tel Aviv, Rozata, where you learn a few basic kitchen, and after conquering your stripes as a chef de partie at Café under the tutelage of Delights the chef Gilles Choukroun, it was in 2003 that you actually enter into the mysteries of the kitchen at La Famille, rue des Trois Freres at Montmartre. Your "miniature" have left, for sure, memories imperishable – I personally conducted the investigation.
For one year, you serve with Laurent Chareau at Transversal, the Restaurant of the MAC / VAL in Vitry-sur-Seine. In total break with the "Cafette" museum, The Transverse strives to bring together art and taste, as evidenced by this example creation: Mono Rabbit, "flat exhibition "designed in collaboration with artist Jacques exposed Monory.
April 19, 2006, you pick up the torch of Chateaubriand. Each day you will offer a kitchen where particularly inventive improvisation originality and surprise everyone's taste. With a remarkable gift unusual for associations, you dare agreements that only chefs as you can afford – for example, a dessert with avocado and sweet passion fruit topped with a shrimp tile; weddings between tapioca, oysters and black pudding, or your ceviche to cucumber water.
For two years, and close to the Chateaubriand, otherwise classified 11th position of the 50 Best Restaurant Awards, we can enjoy your culinary inventions in Dauphin. In a setting of marble signed Dutch Rem Koolhaas and his associate Clement Blanchet, in addition to tapas and small portions of treats that you concoct, you offer all dishes completely revisited as grilled beef chuck the burnt eggplant, served with pickled onions, for example.
Kind of "Marco Pierre White bistros no star," to use the compliment of critical Mattias Kroon, you're a major figure a new French gastronomy particularly creative, with a strong risk appetite, reinventing new ways of feel, eat, live in the moment of the meal. This will help to excellence and reputation of French gastronomy.
On the eve of your fortieth birthday, I am very happy, dear Inaki Aizpitarte, on behalf of the French Republic, to make you Knight of the Order of Arts and Letters.
Dear Armand Arnal,
Are just starting to say the least sensational: at 16 ½ years, while you try Pierre Hermé, you literally fall by land a large cake of 2 meters high by trying to remove a board in the cold room where it was filed. Devastated and sheepish, but not discouraged, you say that it is perhaps you to become better cook than baker.
Home, good food is the daughter of Cronus and the Four Seasons: you are indeed a leader of the French cuisine oriented sustainable development, making good food while respecting the rhythm of nature is your creed. After a few years with the chef Alain Ducasse, in whom you have developed a taste for bio, since 2006 you are the talented young chef of La Chassagnette the heart of the Camargue.
If it's Maja Hoffmann that we owe the idea of making this ancient fold a restaurant, as part of a global project following a sustainable development, it is well with you and your talent that must be unique cuisine. The tender heart of your kitchen is in the garden adjoining the restaurant. This garden, which includes 180 varieties of vegetables, fruits and herbs, is your source inspiration, as well as local productions such as rice or fish.
Playing vegetable flavors born in halophilic earth, rather than using sea ​​salt, you leave the mineral vegetables speak naturally.
For your main course chioggia beets and center plates, seasoning arises from the eel, lacquered beet juice and tails of bull in counterpoint, you condimentez with leaves and seeds mustard.
This art you recently earned your first Michelin star. A la carte La Chassagnette, is available too, depending on the season, the soup of bitter herbs, cauliflower tabbouleh, the wolf's crust salt, skewered with rosemary Camargue bull …
You are demanding, inventive, determined as: your goal is to run reaching the 100% organic. I would like to quote the words of Francis Régis Gaudry, "there's something going on in this intense passion to create as close to the garden […] More than a slogan, it is a pledge of local and sustainable products admirable. One wonders what separated this flat [Which one? You will tell us] of the absolute. "The earth, as a palimpsest, you pound signs from which you know, with knowledge and sensitivity, we tell stories buds.
Dear Armand Arnal, because you are a naturalist and a culinary telluric dandy, I'm very pleased on behalf of the French Republic, make you a Knight of the Order of Arts and Letters.
Dear Mauro Colagreco,
If you ask the Menton tell us the path to the Mirazur, they look up to heaven, pointing his finger at the zenith and specify "Border": a paradise, a nest for eagles taste, between sea ​​and mountains, between France and Italy. This place, you live past six years, the highlight of your influences in Argentina, Italian and Basque. Poet of the lightness of being at punctuation delicate, you have deployed a range of expressions very floral and fruity that is your signature.
No room for empty taste in your kitchen: you do rather heavily loaded with additional marriages. After studying hotel Argentina and France, you train with major: at The Gold Coast restaurant in Saulieu, you learn from the Bernard Loiseau refinement of methods of cooking, the Arpege with Alain Passard, you expand your creativity, especially on vegetables and products garden, then with Alain Ducasse at the Plaza Athénée, the sense of thoroughness and perfection that you perfect. I will not forget more than mention Pascal Barbot remains a great source inspiration in your work.
Gardens of the head of L'Arpege than in Menton, there was only one step, as you cross, literally sucked into the lush gardens of Mirazur. Seaward, herbs, flowers and fruits, or pimpernels the balm taste it a good life, much as the strawberries wood, purple feet or oregano and lemon; mountain side, room for varieties of tomatoes, zucchini, eggplant, peppers.
Your culinary minimalism does not rhyme with the warm sensations.
Your kitchen is sensual and free. One is struck by the strength and freedom of respect with which you sign your oysters, for example, served with a shallot cream, jelly, pear and watercress, or by Beet dessert puffed rice pure white to cream, to beet juice, and sorbet.
You know also blur the boundaries between land and sea. This abundant natural Mediterranean dialogue ever in our plates with the sea. For example, the wolf caught the day and foam smoke.
If your kitchen has something intimate, she can also cause meetings and raise some flavors from others, I think especially the foie gras with a touch of absinthe.
The Gault Millau in 2008 gives you the price of the head of the year, and two years later, four chefs are found side by side on behalf of Mirazur in the same guide. As for the Michelin guide, you serve your first star only 10 months after your arrival in the kitchen the institution. You are also in 35th place in the ranking San Pellegrino's best restaurants in the world.
For all these reasons, dear Mauro Colagreco, on behalf of the Republic French, we give you the insignia of Knight of the Order of Arts and Letters.
Dear Alexandre Gauthier,
In the woods patina of the Grenouillère you give us a fabulous opportunity, time for a meal or a stay, we build residences in the field of sensual memories.
Hedonistic and adventurous nature, in search of absolute – you could have been climber – you excel in a kitchen you sassy discover with William Elliott Westminster Hotel in Le Touquet, of Regis Marcon at the Auberge des Cimes, or Michel Roth at Lasserre, not to mention Gregory Coutanceau at Restaurant at The Waves Olivier and Rochelle Brulard to The Pines in Saint-Tropez. All in Only four years before taking the reins of the family restaurant.
You do not like pretense, artifice, trickery or the bidding culinary kitchen is frontal. Everything about you reminds Dionysian power of the creator, without softness or belief flavors.
Grilled lobster on juniper bush to eat with your fingers, grated pumpkin like a carrot we provide an overview of your immense talent. The kitchen is not merely a matter of luxury; you invite the trivial to play leading roles in our plates, with such your dish with Brussels sprouts.
Among emblematic dishes, I must mention the compression avocado and pickled bar with reconstituted seawater (in this menu evening rumored) or a bubble of sorrel dessert. And what is the secret of this tile-shaped red cloth?
The Romper, table family tradition that your father assured the local notoriety indisputable, has undergone many transformations, which recently, in collaboration with your architect Patrick Bouchain, author, among others, theater Zingaro Bartabas.
Zingaro or, for the movie buff that I am, The Greatest Show on world, reminds me of the atmosphere in which you create. This creation headed now one of the hundred best restaurants world. In a kitchen in chiaroscuro, you work in a masterly with a concentration in peace and serenity, as caught by your imagination, not forgetting to add humor and magic to your dishes. You have also opened a steakhouse in Montreuil-sur-Mer, in With William Elliott, the Froggy's Tavern. You are also consultant for the restaurant Fine Dining Channel in the speaker of the national stage from Calais.
Then you just become a father a few days ago, today Republic honor you for your outstanding contribution to renewal of our culinary landscape. Dear Alexandre Gauthier, on behalf of the French Republic, we do Knight of the Order of Arts and Letters.

Dear Adeline Grattard,
Just steps from here, rue Sauval, we invite you and your spouse Chi Wa which offers a range of teas in accordance with the dishes you prepare. This restaurant, Yam'Tcha, which means "taste dishes while drinking tea, "was opened in 2009 near the Halles; it earned a Michelin star in March 2010. Build you a kitchen traditional French crossbred with Asian touches.
You are an expert of the kitchen fire when the flame licks the wok, but also the steam oven. Among the memorable dishes you are the author, there is eggplant, which then steamed back to the wok, mixes with the bold Iberian, translucent, streaky, with beans
fermented – a specialty of Hong Kong. Also you are able to regale us with shoestring potatoes raw clams in black soy lovage and wok cooking, or to marry squid grilled sausage Basque with watercress, Pippin and chilli. As for dessert, may be tempted by the creamy gorgonzola with olive oil Taggiasca, or by the chocolate tart and ginger.
You have the art of serving another French cuisine, with influences from Asia, or rather Franco-Asian alliances. I also know that you are a woman, feisty, that one feels otherwise in your kitchen, you do not spare your creativity or your efforts.
Woman leader in a profession most often exercised by men, you have been able to impose your talent and originality to your peers and critical whole woman, you do not hesitate to take the risk of close your restaurant to give birth to your child who was born there a few days. I am therefore particularly sensitive to your presence among us and it's a triple congratulations you deserve today.
Grattard dear Adeline, on behalf of the French Republic, we make a knight of the Order of Arts and Letters.
Dear Thierry Marx,
To stroll in front of the bakery Ganachaud Bernard, inventor of the flute Gana, you dream of becoming a baker. The little boy Ménilmontant has become one of the most famous French chefs. You enter in the Companions of the Duty to 16 years to get a CAP pastry. You agree to 18 years in the army as a paratrooper Infantry and Marine peacekeeper during the Lebanon War. Of Back in France, you feel "apart". After several
odd jobs, you go back to the kitchen clerk at Ledoyen, Taillevent Robuchon and you notice that you become a chef the Regency Hotel in Sydney and discover Asia.
In 1988, at age 26, you get a Michelin star in the Rock Val in Tours; ditto three years later, while you are at the head of cuisines du Cheval Blanc in Nimes. Again starred Castle Cordeillan-Bages in Pauillac, in 2006 you receive a new consecration that comes to honor your kitchen: you are elected Head of Year by Gault Millau, with the impressive score of 19 out of 20. Your creative and innovative approach to cooking is inspired by France but also in countries of the world where you have traveled: Australia, China, Thailand, Japan. You suggest textures and avant-garde tastes like liquid or quiche lorraine meringues cooked with nitrogen, defending a cuisine that exceeds the conflict between tradition and innovation.
You offer great dining experiences with your style, your body language Incredibly, the delicacy with which you treat food, two restaurants at the Mandarin Oriental in Paris: the Custom, which awarded two Michelin stars recently, and Camellia. The scenes sober and bare in each piece of porcelain service, the Every detail has been thought to live with a host of Custom unusual sensory experience.
Among your great qualities, it is one that is particularly close to heart: it is your commitment to others. When you were Blanquefort, you have invested in creating a cooking school nomad, a kind of "street food" that is open for training short, people with social problems. For years you intervene in detention centers and are teaching cooking classes of detainees in long sentences. There is also, among these great initiatives, Heart of those restaurants where you come in cooking workshops and fight against illiteracy, and I think in particular of your manual The revenue receipts of Eating, for the poor.
You with great food becomes accessible to all. Integral, with a deep sense of the transmission, you work with great humanism to make the food a vector of integration and reintegration. You are an example to your peers and to all of us.
Dear Thierry Marx, for all these reasons, I am very pleased on behalf of the French Republic, to make you a Knight of the Order of Arts and Letters.