Rocco Forte's Hotel Amigo goes floral in Brussels for five days in August
Ephemeral but so admired throughout the world: Flower Carpet Brussels

Dining on floral dishes such as courgette flowers with mozzarella and anchovy, cod with lavender and watercress cream and Sicilian cannoli with rose and violet ricotta?
From 14 to 19 August, Rocco Forte's Hotel Amigo in Brussels is bringing the city's bi-annual Flower Carpet to its guests with a series of floral treats. A dedicated floral menu and flower- based cocktails have been designed as the perfect complement to the Flower Carpet -a famed spectacle in Brussels. Guests will also be privy to admire the Flower Carpet which this year, for the first time in its 40-year history, takes place over five days rather than its usual three.
As part of the 'Flower Carpet Experience' package, Amigo's guests will be granted VIP access to a private balcony at the Town Hall, which will be adorned with thousands of 'anthuriums' – colourful flamingo flowers from South America.
Stretching over 2,000 square metres, Brussels' Flower Carpet requires months of design and preparation by landscape artists, technicians and volunteers. Over 800,000 flowers make up a fragrant tapestry, which is put in place in just one day directly onto the cobble stones of the square – without a layer of soil – by a hundred skilled horticulturalists.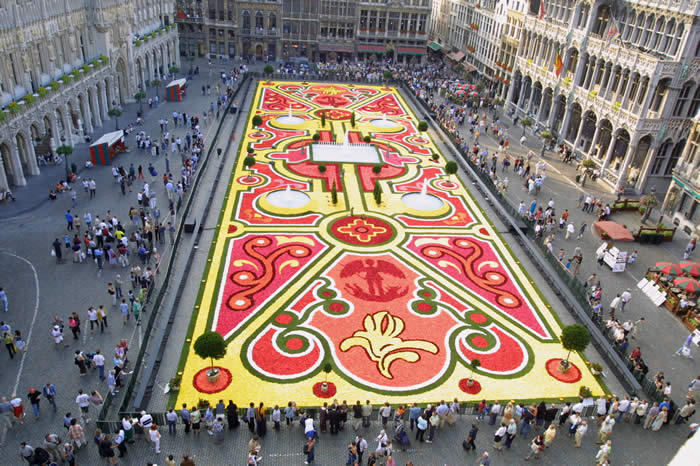 The first Floral Carpet was created in 1971 on the Grand-Place/Grote Markt in Brussels by the landscape architect E. Stautemans, but in fact, it was the culmination of a whole series created in various towns in Flanders.
The Flower Carpet Experience at Hotel Amigo is available from 14 to 19 August 2012. Prices start from €249 per night based on two people sharing a Classic Room on a B&B basis and includes:
– VIP access to balcony at the Town Hall
– Welcome Flower Champagne Cocktail
– Box of Belgian Chocolates.
Tapis de Fleurs. Opening night the 14th August at 10.00pm.
Exhibition 15, 16, 17, 18 and 19 August 2012.
Exceptionnaly 5 days.