Audi City, the automaker's first digital showroom opens in London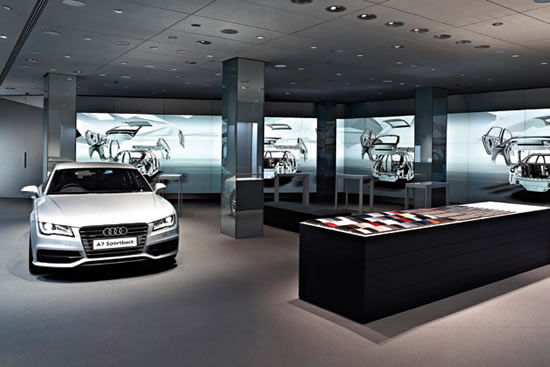 Following the example of competitors and responding to customers' changing needs, Audi is complementing its dealer network with a new format – Audi City. The first location opened in London close to Piccadilly Circus, is presenting the brand's entire model line-up fully digitally in a compact space.
Visitors can digitally select their vehicle from several hundred million possible configurations and experience it in realistic 1:1 scale on screens that almost fill the entire space. Moreover, technical details such as the drivetrain, bodyshell or LED light technology can be presented individually in order to make innovations understandable on an intuitive level.
"Audi City combines the best of two worlds – digital product presentation and personal contact with the dealer," says Peter Schwarzenbauer, Member of the Board of Management for Marketing and Sales at AUDI AG. "This new retail format brings us even closer to our customers – geographically, of course, but first and foremost in terms of the quality of our relationship. Audi City offers new freedom for tailor-made services and an even more individual contact with the customer."
"People are placing greater emphasis than ever before on a direct and personal bond of trust with their vehicle brand – especially in respect of the increasing variety of products and available information," explains Schwarzenbauer. "Thus, with Audi City, we are creating a one-stop-shop for experiencing our brand. It is right in the midst of our customers' lives, yet seamlessly connected to the online range offered by the four rings."