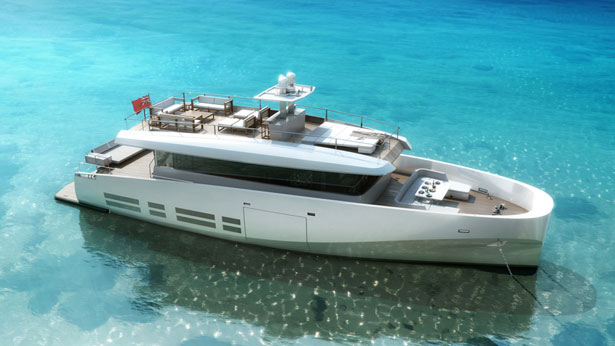 Kanga, the first WallyAce 26M displacement yacht was launched, introducing the new Wallybow: The bulb incorporated into the bow. This unique Wally design combines the vertical bow to pierce waves and the bulb to improve performance.
"… Wally opens once again a new route in yacht design – enthusiastically says Luca Bassani, Wally President and Founder – We are well-known for our performance yachts: WallyAce is indeed a performance yacht in the sense that exceptionally performs the mission to provide more volumes, more comfort, more stability, with super reduced fuel consumption, noise and vibrations, aiming at the lovers of long cruises and life in the bays.
"We have succeeded to developed a product –continues Bassani – that carries the indisputable Wally signs of improved functions combined with contemporary and clean style, standing out in the displacement category.
The propulsion system is characterised by engines that run at low RPM offering many advantages such as low vibration, low noise, low consumption, little maintenance, and long life.
"We expect Kanga to sail at 11.0-11.5 knot cruising speed at 1,300 rpm – continues de Luca – with a consumption around as little as 5 litres per nautical mile representing an unprecedented rate for a 10-guest/4-crew /90-ton motor yacht". As a result of this exceptional efficiency, Kanga range is expected to surpass 3,000 nm: another remarkable and unique target in her category".
WallyAce 26m Kanga features three decks:
– the 60-sqm sun deck over the superstrucure that is a large sunbathing and lounge area, featuring the vast 3×3-meter sun-pad with adjustable backs, the fully equipped bar with counter and stools, and the sofas seating
8-10
– the 120-sqm main deck with the two social cockpits (one forward with table and seats for 8-10, and one aft with dining and lounge areas) and the superstrucure, that is completely surrounded by glass to enhance the Wally inside outside living concept- the 95-sqm guest and service deck in the lower level
Interior layout and styling The WallyAce 26m Kanga features over 50 sqm of social area incorporated in the glass walled superstructure, that includes the lounge with large sofas, the dining table for 10-12 guests, and the steering and navigation station.
The accommodation layout reflects the perfect configuration for large families and charter capabilities: four large double cabins, sleeping up to10 people (two cabins have additional pullman beds) . All cabins have en- suites.
WallyAce 26m is a semi-custom line built using the sandwich GRP construction technology.The hull skins are 50 % thicker than those required by the Classification Register, offering up to three times the mandatory solidity and toughness, to provide a true round-the-world cruiser.
Kanga is undergoing extensive sea-trials before the delivery to her Owners for their summer cruise, and she will be on display at Cannes Boat Show (September 11-16) and Monaco Yacht Show (September 19-22).