The most unprecedented treatment for filling wrinkles. It delays ageing and stimulates the body's natural repair system to work on the lines and wrinkles that are already present.

Ageing is partially genetic and partly due to exposure to free radicals. Our body's natural defence systems are lowered as Glutathione (the body's master antioxidant) levels decrease with age. By stimulating the production of Glutathione, the cells ability to fight free radical damage is strengthened, and the ageing process is delayed.
The luxurious Celestial Black Diamond collection is a high performance skincare line combining technologically advanced ingredients with groundbreaking medical research. The combination of age-defying ingredients supports the optimal function of the connective tissues and key enzymes in
the cells.
The £ 1,000.00 collection featuring Celestial Black Diamond Cream, Celestial Black Diamond Serum, and Celestial Black Diamond Eye Cream has an innovative delivery system of Black Diamond Particles used to transport 111SKIN's NAC Y2 formula, in combination with Arbutin and Hyaluronic Acid, into deeper layers of the skin to target ageing.
While Centella Asiatica stimulates the synthesis of collagen type I and III, NAC Y2 stimulates the ability of cells to regenerate and boosts the functions of the epidermis. The Hyaluronic acid protects, captures, and retains moisture, and the Arbutin visibly brightens the skin, say the researchers.
At age 25 we observe the first signs of skin ageing as Glutathione, Hyaluronic acid and Collagen start to diminish gradually every year. On a cellular level, the cream regenerates the production of these key cell-fortifying substances in order to restore a youthful appearance. The Celestial Black Diamond Cream is also recommended after cosmetic treatment to prolong the benefits and optimise results.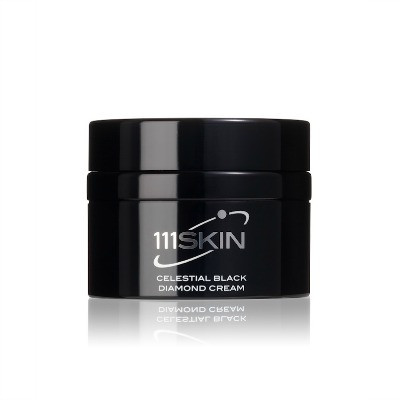 Each 111SKIN product contains the unique patented NAC Y2 formula, a potent trio of peptides and antioxidants, proven to delay ageing. The formula stimulates the body's natural repair system to work on the lines and wrinkles that are already present. NAC Y2 is composed of the following:
NAC, or N – ACETYL CYSTEINE– an amino acid that encourages collagen production, to improve skin elasticity and repair the skin.
Ascorbyl Phosphate (the most potent derivative of Vitamin C)- an antioxidant that helps fight free radicals that cause ageing, promotes collagen production, and helps even out and brighten the complexion.
Escin – is a potent group of antioxidants that transports NAC and Ascorbyl Phosphate directly to the deep layers of the skin to stimulate cell renewal and skin regeneration.
Together, these powerful ingredients work in synergy to detoxify, hydrate and regenerate the skin, while fighting free radicals.