Ferrari GTC4Lusso debuts at the 2016 Geneva Motor Show.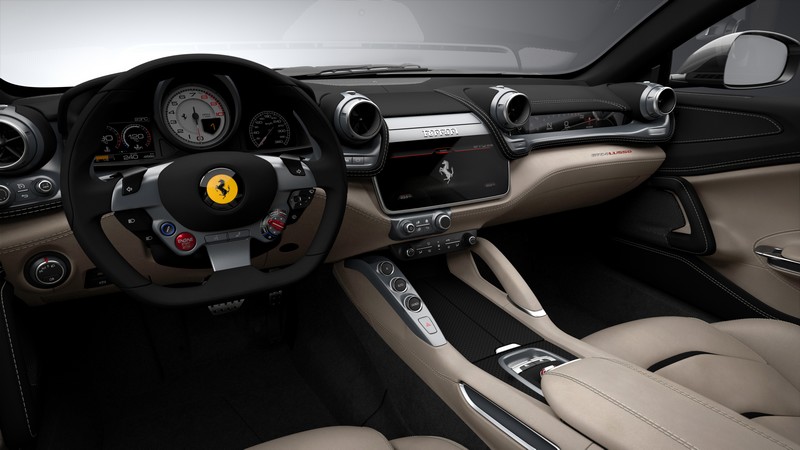 Ferrari's Grand Tourer concept is going through a major evolution we will able to see this March in Geneva. Integrating rear-wheel steering with four-wheel drive for the first time, the new four-seater Ferrari GTC4Lusso will debut at 2016 Geneva Motor Show (from 3rd – 13th of March 2016). Described as a flawless triumph of sporty luxury, the GTC4Lusso's name references distinguished predecessors, such as the 330 GTC or its 2+2 sister model, the 330 GT – one of Enzo Ferrari's favourites – and the 250 GT Berlinetta Lusso. The number 4 alludes to the car's four seats.
Penned by Ferrari Design, the GTC4Lusso is a further refinement of the shooting brake coupé, reinterpreting the concept with astreamlined, tapered shape that gives it an almost fastback-like silhouette. The soundtrack will reflect the car's multifaceted personality: rich and powerful in performance driving and discreet in the city.
"This is a car designed for clients wanting to experience the pleasure of driving a Ferrari anywhere, anytime, be it on short spins or long journeys, snowy mountain roads or city streets, alone or in the company of three lucky passengers," says Ferrari team.
"In short, the GTC4Lusso brings unprecedented versatility to Ferrari driving, like the FF before it which won the Prancing Horse a new, younger client base that, significantly, also makes greater use of its cars, clocking up 30% higher mileage than average," added Ferrari in a statement.
In terms of performance, the new model will reach 0-100 km/h in 3.4 sec and will deliver a Maximum speed of 335 km/h. The GTC4Lusso's 12- cylinder engine delivers smooth, consistent power, punching out a massive 690 cv at 8,000 rpm. Both its 2.6 kg/cv weight-to-power ratio and its 13.5:1 compression ratio set new records for the category.
The Ferrari GTC4Lusso is a versatile car in every kind of grip condition thanks to the Ferrari-patented 4RM Evo four-wheel drive system which is integrated with rear-wheel steering for the first time. The new-generation SCM-E damper control also contributes to improving performance on rough surfaces and, of course, to superior ride comfort.
The cabin's Dual Cockpit architecture is another first, designed to enhance the shared driving experience for both driver and passenger, with the latter having their own generous optional display with a plethora of functions.
That innovative architecture aside, the cabin's most striking feature is the beautiful craftsmanship of the materials which have been carefully selected and combined to enrich the atmosphere on board.
The GTC4Lusso also debuts the new Infotainment platform featuring a 10.25" HD screen with capacitive touch technology. The new steering wheel is more compact thanks to a smaller air bag and the integrated controls are more ergonomic than ever, making for an even sportier driving experience.