Fashion and tea: Limited Edition Afternoon Tea at The Promenade Shops & The Ritz-Carlton Bar & Lounge
This tea and fashion collaboration between Macau's lifestyle café, Cha Bei, and the inimitable Marc Jacobs is truly a unique treat for the Chinese New Year season.
Popping with color, style and flavor, the limited edition Cha Bei x Marc Jacobs Afternoon Tea makes its grand entrance at The Promenade Shops, Galaxy Macau, from 11 January to 11 March 2018. This exclusive tea and fashion experience takes inspiration from  the 1960s charm of the Marc Jacobs 2018 Resort Collection to offer guests an artfully indulgent tea set designed by Macau's beloved  lifestyle café, Cha Bei.
Inspired by the primary hues of the Marc Jacobs 2018 Resort Collection as well as Cha Bei's love of Ultra Violet – the Color of the Year for  2018 – the Afternoon Tea features sweet morsels prepared with a beautiful contrast of soft lemon and purple lilac, such as the Macaron Partyand Homemade Fresh Marshmallows. Cha Bei's Signature Cookie Lollies and Yuzu Chiffon Cake are transformed to resemble the iconic Marc Jacobs daisy abloom. Embellishments of Marc Jacobs' latest catwalk designs are served up as the Mango Lemon Tart and Vanilla Cream Puff with a touch of sparkle.
The convivial tradition of afternoon tea is completed by delicious savories including crabmeat deviled eggs, caramelized onion and feta cheese, and Hainanese chicken toast alongside a selection of scones and freshly baked madeleines. To sip, guests may choose the Taro Latte, a heartwarming recipe specially made for the season, or choose from Cha Bei's premium loose leaf tea selection, hot chocolate or coffee.
The Marc Jacobs Resort Collection 2018 features classic silhouettes embellished with fringe, beads, tassels and pom-poms, while a color palette of pastel blue, lilac and yellow with pops of red and black gives a light and airy feel to the 1960s-inspired ready-to-wear pieces. Classic Marc Jacobs bag shapes get a seasonal flair for Resort, offered in smaller variations with embellishments. A smaller version of the classic Sling bag, the Mini Sling, is key to the collection, offered in classic colors as well as an embellished damask print.
Cha Bei is a lifestyle café inspired by the culture and history of the teacup ("cha bei"). Cha Bei guests are encouraged to take photos of the picture-perfect Afternoon Tea, tailor-made Marc Jacobs candy color cushions embellished with pom-poms, and the signature brand displays at Cha Bei to post on their favorite social media.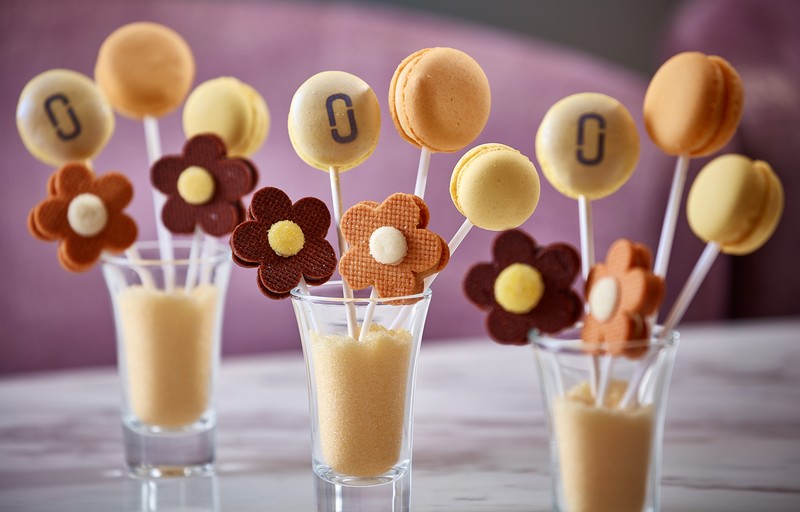 Fashion Meets Afternoon Tea at The Promenade Shops: Kwanpen x The Ritz-Carlton Bar & Lounge
Last December, The Promenade Shops Macau invited visitors to savor a first-to-Macau fashion and tea collaboration between Kwanpen and The Ritz-Carlton, Macau. In celebration of 80 years of Kwanpen craftsmanship, The Ritz-Carlton Bar & Lounge has created an afternoon tea set inspired by the prestigious Asian heritage of the crocodile leather handbag brand.
Available until 31 January 2018, only at The Ritz-Carlton Bar & Lounge, The Promenade Shops, the tea set features a delectable menu of sweets and savories, accompanied by an impeccable selection of teas. The set includes Silver Chocolate Mont Blanc, Red Berry Chocolate Yule Log, Pistachio Éclair, Blueberry and Lavender Tart, and Assorted Scones; as well as Avocado Mousse, Shrimp Salad; Yellow Bell Pepper, Apricot, Salmon Roe; King Crab Leg Salad, Tomato Dust; Smoked Eel, Soya Glaze; and Turkey Yule Log.
The tea set takes its creative inspiration from the Kwanpen Raffles Collection – a signature Kwanpen design featuring vibrant color, center-cut leather and Raffles hardware. The theme of craftsmanship flows across the culinary creations of the afternoon tea set and the Kwanpen Raffles Collection, which is now available at Kwanpen's The Promenade Shops store.