Models walked to the sounds of silence at the Marc Jacobs show during New York Fashion Week.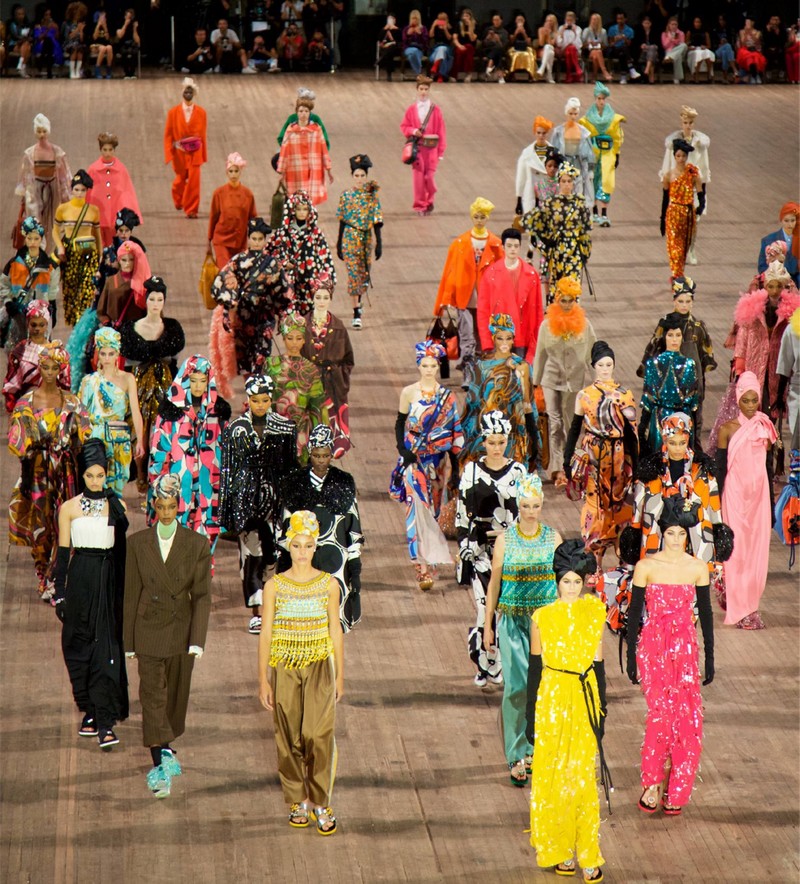 Fantasy twisted into reality in a collection about reimagining seasons past. Marc Jacobs presented an eclectic and boldly colorful collection with flowing, supple cuts. A mélange of nylons mixed with silk and synthetic satins, jerseys and twills in knotted and draped turbans, sarouel track pants and oversize sweaters. Fringes, jewels and pompons embellished sportswear looks with Eastern inspirations.
""During the last few months while friends vacations, we took a holiday in our heads and went somewhere – twisting fantasy into reality through exaggerated, decadent and exotic sportswear silhouettes. This collection is the reimagining of seasons past somewhere beyond the urban landscape of New York City," explained Marc Jacobs.
"Those watching closely could recognize some of the Studio 54 babes of Spring 2012, the wintry angels of Fall 2014, and the Jamiroquai girls of Fall 2012. There was an added workwear element and the occasional suiting look for good measure," commented vogue.
"Marc Jacobs's muses Kate Moss and Sofia Coppola inspired his decision to outfit the models with turbans. Moss famously wore a golden one to the 2012 Met Gala, and Coppola was recently photographed in an elegant red option," added vogue.
Marc Jacobs looks back on his adolescence, on his love affair with fashion, and his first kiss with a girl via W magazine. Watch the full video: mjin.tl/WMAG