Cellar Selections: the year's most important collectibles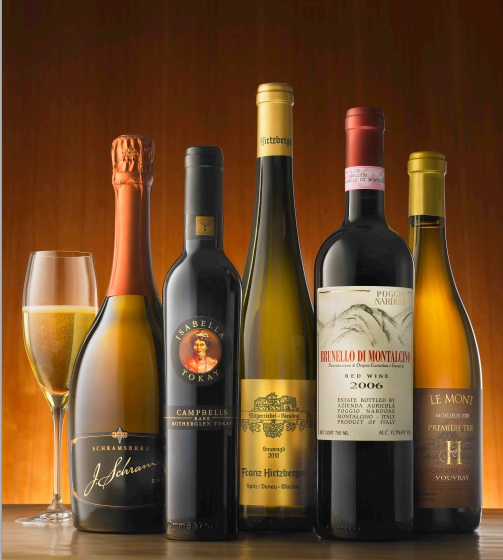 Even that 80 percent of wines purchased are consumed within 48 hours, there are wines that deserves to be kept in the wine cellar for future sipping.
We know it's not easy—or cheap—to keep a cellar stocked with selections worthy of future enjoyment. But we also know that some of the best wines in the world deserve a little love in the cellar, stated the wine magazine.
"To a large extent, our list of Top 100 Cellar Selections reflects which classic wine regions released the best vintages during the past year. In 2011, that means the list is heavy on 2007 Barolo and 2006 Brunello di Montalcino, but light on the terrific 2009 Bordeaux and Burgundies, which are largely yet to be reviewed," explained the editors of Wine Enthusiast Magazine.
Here are Wine Enthusiast's top 20 Cellar Selections. The picks range from $40 to $135.
1. Marchesi Antoni 2008 Guado al Tasso, from Bolgheri Superiore, Italy
2. Pirouette 2008 Red Wine, Columbia Valley, USA
3. Chateau Léoville-Barton 2009 Saint-Julien, France
4. Ridge 2009 Estate Monte Bello Vineyard Cabernet Sauvignon, Santa Cruz Mountains, USA
5. Capanna 2007 Brunello di Montalcino, Italy
6. Brundlmayer 2010 Zobinger Heiligestein Erste Lage Alte Reben Reserve Riesling, Kamptal, Austria
7. Quilceda Creek 2009 Cabernet Sauvignon, Columbia Valley, USA
8. Louis Jadot 2009 Corton-Pougets, France
9. Evening Land 2010 Seven Springs Vineyard Summum Chardonnay, Eola-Amity Hills, USA
10. Longoria 2009 Fe Ciega Vineyard Pinot Noir, Sta. Rita Hills, USA
11. Tenuta dell'Ornellaia 2007 Ornellaia (Bolgheri Superiore)
12. Château Léoville-Barton 2008 Saint-Julien.
13. Schramsberg 2004 J. Schram (North Coast).
14. Fattoria Petrolo 2007 Galatrona (Toscana)
15. Domaine Serene 2007 Evenstad Reserve Pinot Noir (Willamette Valley).
16. Buty 2007 Columbia Rediviva Cabernet Sauvignon-Syrah (Horse Heaven Hills).
17. Cayuse 2007 Cailloux Vineyard Syrah (Walla Walla Valley)
18. Marchesi Antinori 2007 Guado al Tasso (Bolgheri Superiore)
19. Franz Hirtzberger 2010 Singerriedel Riesling Smaragd (Wachau).
20. Jean-Luc Baldès 2007 Clos Triguedina Les Petites Cailles (Cahors).