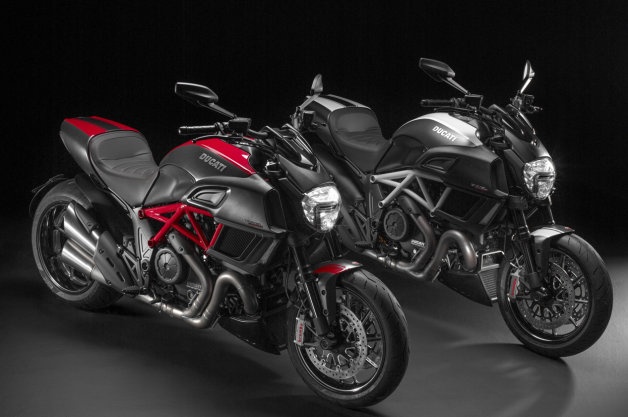 On the eve of the 2014 Geneva Motor Show, the Italian high-end sport bike specialist Ducati Motor Holding (founded in 1926) unveiled Diavel – a Bologna-built sport cruiser boasting enhanced design, comfort and ergonomics and a new higher-performing engine.
Ducati presented further enhancement of its sport cruiser model, featuring the latest version of the Testastretta 11° DS engine, a new exhaust system and latest technological elements such as the new full-LED headlight, all combining the powerful and assertive personality of the model with the sophisticated styling synonymous with the iconic Ducati brand.
The new Diavel follows the company's "Performance Redefined" philosophy, using cutting-edge innovation and technology to provide a smoother, safer and more rider-friendly experience, enabling easier access for the ever-increasing number of people who desire the unique thrill of riding a Ducati.
For connoisseurs of technology, the latest generation Testastretta 11° Dual Spark engine combines with full LED illumination, ABS, Ducati Traction Control and Ducati Riding Modes to deliver a confidence-inspiring superiority, while new styling, 162hp and 205kg* (452lb) of pure Ducati drives a comfortable sport lifestyle previously only dreamt of.
The new Diavel is dressed in stylish Dark Stealth livery, a black trellis frame and black wheels. The Diavel Carbon offers the choice of traditional Ducati Red over Matte Carbon with red frame or the new Star White over Matte Carbon with white frame, both with black, forged wheels by Marchesini, turned and milled to expose the natural aluminium.
New Diavel models will arrive in Ducati stores from April 2014 onwards.