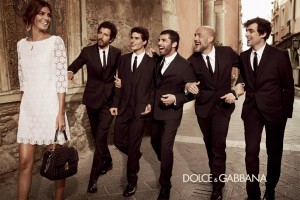 Once again haute couture is considered to be a safe haven in a recession-plagued economy. Far from the classic couture environs of Paris, Dolce & Gabbana announced it will launch a couture collection, following in the footsteps of Armani and Versace. To maintain the very private allure of the couture, to avoid critics and all the high fashion industry constraints, the line will be showed July 9th to a group of clients in Taormina, Sicily. The latest Dolce&Gabbana Spring Summer 2013 collection also pays tribute to Sicily, and to its inhabitants.
"It allows Dolce & Gabbana to avoid the stringent requirements the French couture world imposes on any brand that wants to call itself a full-fledged couture house," wrote FT.
Taormina is one of the most internationally renowned places of Sicily. It's beautiful landscape and it's history makes it a perfect spot for a vacation all-year-round. Sicilian cityscapes were used in the latest Dolce&Gabbana FW13 Men's Campaign with the statuesque Bianca Brandolini D'Adda and actors Francesco Scianna, Brenno Placido, Flavio Parenti, Carmine Recano and Gianmarco Tognazzi.