Here is a stylish invitation to get some rest. This exclusive relaxation lounge provides a wonderful view of the beach, pool, sea, landscape, skyline and much more. Protected from the wind and sun CocoOne creates an island for the elite. It's an oasis of peace in troubled waters and an exclusive, protected view on deck.
CocoOne consists of a stable and mobile base, on which two fixed wall elements and two flexible swing doors are attached. The two swing doors each have one panel element with a textile cover. The cover is supported by the special arrangement of aluminum struts, which make the large swing doors very light and easy to operate.
There is a profile element, like a rain gutter, between the two swing doors. The closed swing doors cover this gutter in some areas. This provides for improved interior ventilation, while keeping the interior shielded from outside view and protecting it from the rain. The swing doors can be positioned at a 90 degree angle. It is also possible to open the swing doors at any angle, in order to counter glare from the sun or other external influences.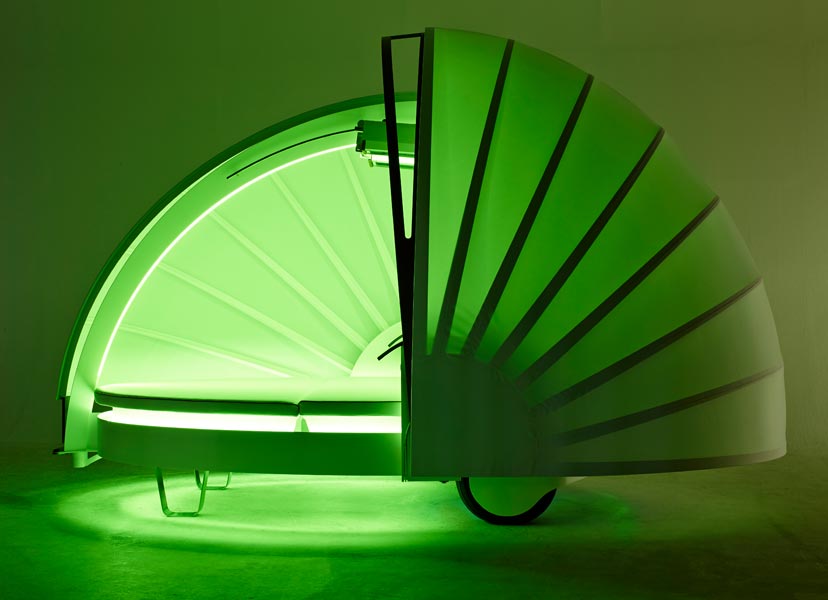 The round outside contours create special airflow conditions for air circulation/ventilation. This ventilation is a major advantage, since when the cocoon is closed it ensures a cozy atmosphere and brings air into the room. The additional convenience of the CocoOne sun screen and wind protection can also be used. When it is preferable to entirely close the cover on a very hot day (for example, as a sun screen for improved relaxation), the unique ventilation prevents the interior from overheating in a very simple manner – particularly also when it is slightly windy).
The smart relaxation lounge can be equipped with two Thera-Med deep heat radiators below the cover fixture. The first class cocooning lounge can thus double as an infrared cabin. An integrated timer can automatically turn off the deep heat radiators at a pre-set time. The smart furniture offers the latest generation of remote control. All of the CocoOne technical features can be remote
controlled with an iPad, including LED color, the deep heat radiators, the music system and the adjustable mattress base.