James Bond, Bruce Wayne or Tony Stark- who do you think would choose to fly Valkyrie X? Maybe all of them?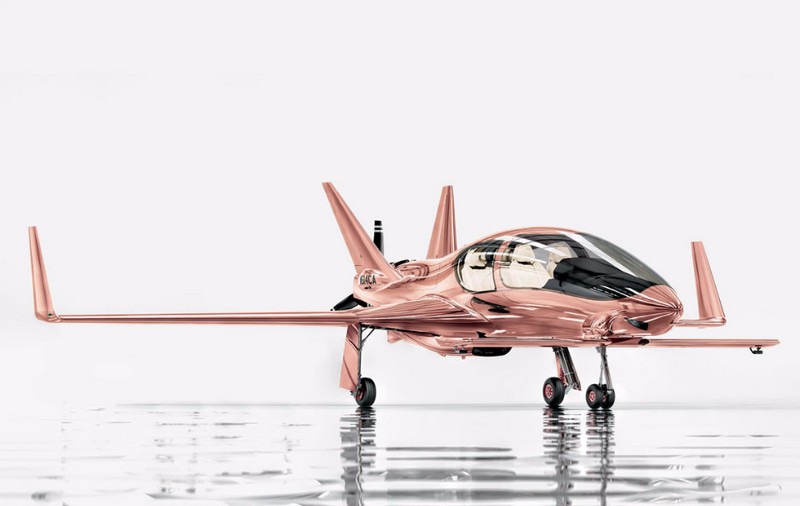 Valkyrie is "sexy" and "literally hot" and the design team can't agree more. Founded in Paris in 2005 and set in California since 2010, Cobalt has both French elegance and American innovation. Brainchild of aerospace engineer and Cobalt founder David Loury, the Cobalt Valkyrie-X will be one of the fastest piston aircraft in the world when it debuts in 2017.
The plane has a 350-horsepower engine and flies a pilot and three passengers at speeds up to 230 miles per hour, with a range of up to 1,150 ground miles. The plane features a main structure of high-performance carbon composite, flight controls with pushrod-bellcrank precision mechanisms and retractable landing gear machined from solid alloys of aluminum and stainless steel.

Boasting hand-stitched leather seats and suede-like Alcantara, the plane will have one of the largest one-piece canopies in the world. Inside, the controls are rose gold, seats are an exclusive cream leather with beige- and-taupe headlining and anthracite carpets.
Valkyrie X private jet key numbers: The fuel tank capacity is 413 liters. Just to compare, it is around 5 times more than in the Maserati Quattroporte. The top speed is 250 Knots. This means that the flight from Los Angeles to Cabo San Lucas will take around 3 hours 12 minutes.
The Cobalt Valkyrie-X is one of the Fantasy Gifts found in Neiman Marcus Christmas Book. The adrenaline-filled gift comes with 24/7 technical support in the United States for two years.
With the purchase of each Cobalt Valkyrie-X, Neiman Marcus will donate $200,000 to The Heart of Neiman Marcus Foundation. ($1,500,000).