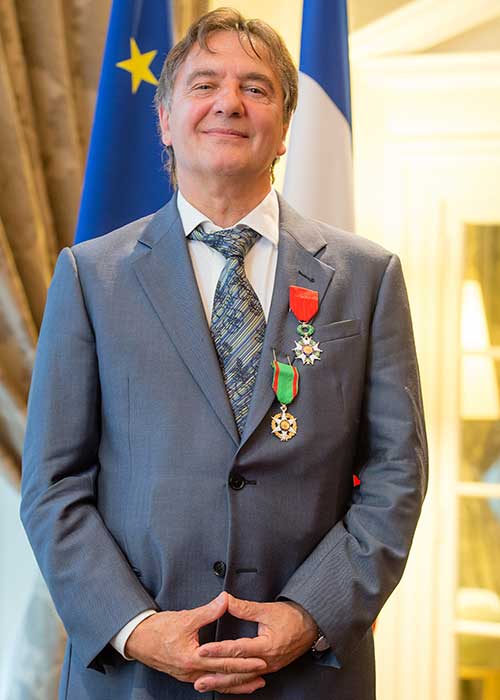 5 years after celebrity chef Raymond Blanc was first honoured by his adopted homeland Britain (honorary Order of the British Empire), the British chef gets the Legion d'Honneur, France's top honour. Raymond Blanc became one of Britain's best known cooks thanks to television shows and the restaurant Le Manoir aux Quat' Saisons (near the university town of Oxford) opened in 1977.
"Very few people get to experience what I am experiencing. First, to be acknowledged by the British government; and then even bigger and more significant honours from France," Blanc told AFP. after receiving the Legion d'Honneur and another award, the agricultural order of merit.
"I don't feel that France has been sidestepping me at all," added Raymond Blanc.
Established by Napoleon Bonaparte, the Order of the Legion d'Honneur honours individuals who have served France in various ways.
Raymond Blanc opened his own restaurant, Le Manoir aux Quat'Saisons in Great Milton, Oxford in 1984 and after just one year, Le Manoir was named the "Egon Ronay Restaurant of the Year, proving Le Manoir's motto that "The good does not interest us. The sublime does."
Today, Le Manoir Restaurant is the only country house hotel in the UK, which has achieved and retained two Michelin stars for nearly 30 years. Raymond Blanc also runs cookery courses at Le Manoir and grows all his own organic vegetables and herbs, which are used in his restaurant.
In 2008 his quest for culinary perfection was recognised by the Queen when she awarded him an OBE.
His monumental influence on British cuisine – he has trained some 30 chefs who have gone on to be Michelin star winners – has brought him numerous awards, decades of critical praise, and glowing admiration from fellow professionals and food lovers.
In the 1990's, he also launched Le Petit Blanc group of restaurants, with an aim to be the best within the brasserie scene in England. The group was later re-launched as Brasserie Blanc and 2013 has seen an opening of a total of 19 Brasserie Blanc restaurants all over the country.
In 2013, Blanc was also made Ambassador for Good Jobs in Food by Mayor of London, Boris Johnson to encourage apprenticeships in the service industry and exponentially grow the number of newcomers to the industry as well as the reputation of this crucial part of the economy.
His television career has included a succession of phenomenally successful series, including most recently the Very Hungry Frenchman and Kitchen Secrets and in July, he launches a new series on the BBC, How to Cook Well. He is an acclaimed, best-selling author – and you can read more of his memoirs in Taste of My Life published by Transworld.
Raymond's philosophy is simple: "My team and I aim to touch excellence in all that we do, and to smile often."