The new Bristol Bullet is a carbon-fiber hardcore speedster.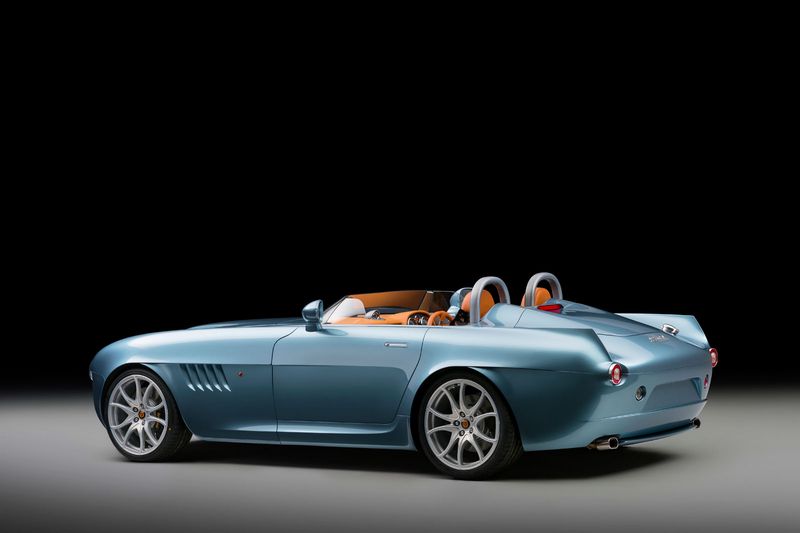 Luxury car manufacturer Bristol Cars has unveiled its first new model since the company was rescued from insolvency by new owners 5 years ago. The new Bristol Bullet is a V8 speedster capable of 370bhp.  The vehicle celebrates 70 years of "sophisticated luxury motoring."
Bullet was inspired by a speedster neglected and ignored under a dusty tarpaulin in Bristol's old factory. Hand made in Chichester, the new Bullet draws it's bold design from the company's roots as an aeroplane manufacturer. Much like the newest aircraft, the body of the Bullet is manufactured from bespoke carbon fiber composites to achieve high strength, rigidity and low weight.
"The BULLET celebrates 70 years of design and innovation at Bristol Cars. This unique speedster sets the tone for the future of Bristol Cars – with a focus on luxury, performance and elegance it really is the ultimate driver's car," said Julian Ramshaw, General Manager of Bristol Cars.
The Bullet has a powerful V8 Hercules engine which can go from 0-62 mph in 3.8 seconds and reach a top speed of 155 mph. The 4.8 litre power plant, named after the legendary Bristol Hercules 14-cylinder,  1300 hp radial engine, has been manufactured by BMW and finished by Bristol. The interior of the Bullet features a multi-touch screen embedded into the dashboard providing digital radio, smartphone connectivity and both Bluetooth and WiFi connections.
"The discovery of the prototype at the factory provided us with the perfect way to celebrate this incredible marque's 70th anniversary. Open top, higly luxurious, lightweight and full of torque, it really is the ultimate driver's car."
Bristol's first cat, the 400, was built by the Car Division of the Bristol Aeroplane Company in 1945 in collaboration with Frazer-Nash and BMW. Bristol Cars Limited was founded later in 1947. Frazer-Nash Research and Bristol Cars were reunited in 2011, when the new owners rescued the auto-maker and brought the two together in the same group of companies.