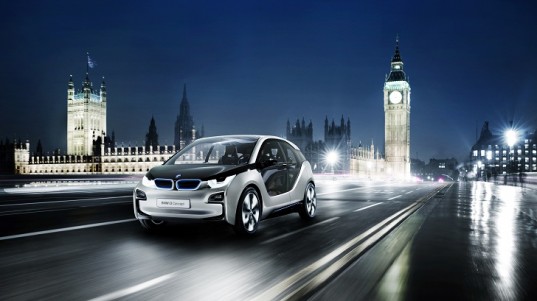 To coincide with the opening of the world's first BMW i Store on London's Park Lane, the BMW Group presented the BMW i3 Concept with a new interior colour and materials concept. Based on the original concept car which premiered at last year's Frankfurt International Motor Show (IAA), the BMW i3 Concept is now influenced even more heavily by the "next premium" approach, and in so doing trains the spotlight squarely on the issue of sustainability.
Celebrating its premiere at the BMW i Store is the new BMW i Pedelec (Pedal Electric Cycle) Concept – a custom-made complement to the BMW i3 Concept. The ace up the sleeve of the compact bicycle? It can be folded up almost in the blink of an eye and, handily, there is room for two of them in the boot of the BMW i3 Concept.
The BMW Group unveiled its comprehensive 360° ELECTRIC package in London for the first time. This extensive range of products and services provides an extremely reliable, comfortable and flexible way of experiencing the benefits of electromobility on a day-to-day basis.
New BMW i sales channels are designed to give customers a user-friendly and customer-orientated access point to its range of products and services.
To this end, it has demonstrated a particularly acute awareness of customers' increasing expectations when it comes to flexibility within the purchasing process.