Audi R8 e-tron piloted driving.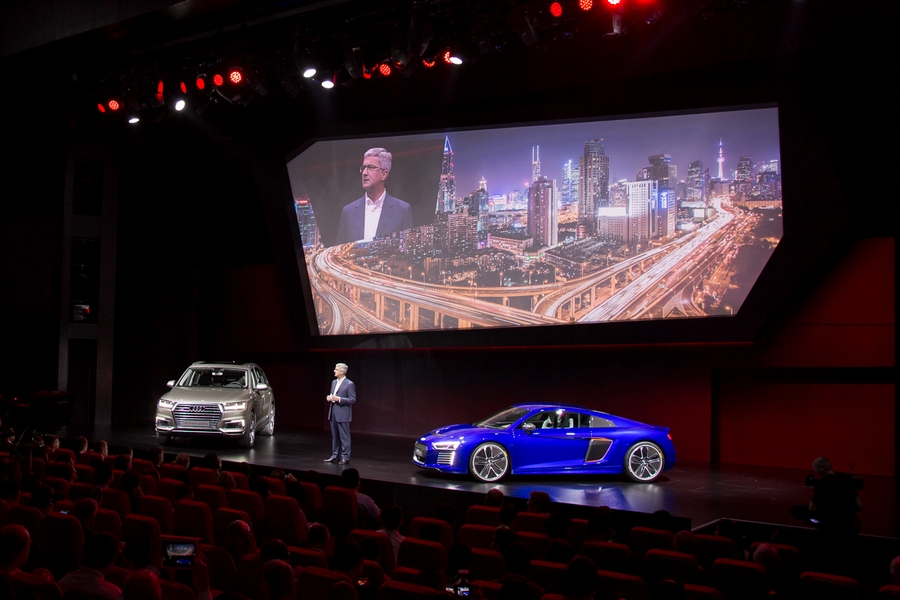 Audi R8 e-tron electric concept car gets some extras that make it capable of autonomous driving. Audi's electric vehicle project, presented at this year's Geneva Motor Show, now have some additional gadgets unveiled at CES Asia in Shanghai.
The R8 e-tron is equipped with all of the functions of piloted driving, says Audi. Data is acquired from the interplay of an array of sensors: a new type of laser scanner, several video cameras, ultrasonic sensors and radar sensors at the front and rear. Based on signals from these sources, the central driver assistance control unit (zFAS), a compact central computer, computes a comprehensive picture of the vehicle's environment.
The R8 e-tron piloted driving achieves an electric range of 450 kilometers (279.6 mi) instead of a previous 215 kilometers (133.6 mi), its energy density was increased from 84 Wh/kg to 154 Wh/kg and several other modifications were made. The high-performance sports car has the Combined Charging System (CCS) on board, which allows charging with direct and alternating current. With this system, the customer can charge the large battery in significantly less than two hours.
The electric concept rockets from 0 to 100 km/h (0 to 62.1 mph) in 3.9 seconds on its way to an electronically-governed top speed of 210 km/h (130.5 mph) or 250 km/h (155.3 mph), depending on the car's tires. Intelligent energy management and an electromechanical brake system enable high energy recuperation rates. Targeted torque vectoring – needs-based distribution of power transmission between the rear wheels – ensures maximum stability and dynamism.