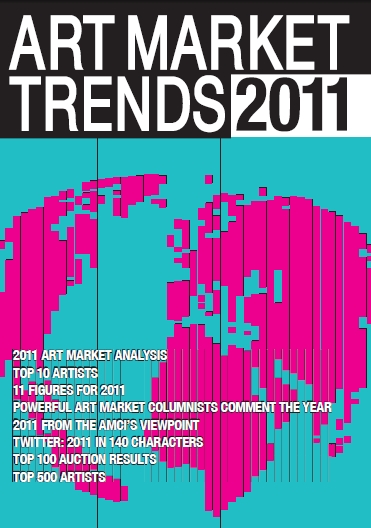 This year, Artprice's annual art market report – based on 6.3 million auction results from 4,500 auction houses around the world focused particularly on China's successful conquest of the global art market. In spite of the sword of Damocles hanging over the West, art in fact sold better in 2011 than at any other time in history.
China's growth in particular has profoundly modified the geographical structure of the global art market according to Thierry Ehrmann, the founder and CEO of Artprice, the world leader in art market information. Moreover, in Singapore, Beijing and Hong Kong, politicians are aware of the enormous economic potential of art for their state or their city, and their governments strongly support major cultural events including Contemporary Art fairs. In addition to the 49% growth in auction revenue from artworks in China, a number of other Asian countries have also posted particularly dynamic growth, such as Singapore (+22%) and Indonesia (+39%).
This growth has been driven by the emergence of new and very wealthy collectors and a growing number of art investment funds.
As a result, the Asian art market has become the most high-end area of the entire globe. For example, 12.1% of works sold in Asia sell for between $100,000 and $1m, versus 2.2% for the rest of the world.
China, Asia's leading economic power and world leader for sales of artworks, has surprised everyone not just by its acquisitive capacity but also by its independence. It accounts for the highest auction results (with 774 auction results above $1 million recorded in 2011 compared with 426 in the USA and 377 in the UK), mostly generated at auctions in Beijing and Hong Kong. Even if China were deprived of the strong Hong Kong sales of Christie's and Sotheby's, it would easily remain the first global marketplace!
In 2011, the global art auction market generated 21% more than in 2010 and there is not a single segment of the art market that did not progress in terms of turnover. Compared with 2010, Modern art added $1.2B, Post-war art added $372m, Contemporary art added $291m, Old Masters added $124 million and 19th century art posted an increase of $43 million. In addition, bulimic buying has not left any medium on the side-lines. 2011 saw the sale of more paintings, sculptures, photographs, drawings and even prints than 2010. Indeed, driven by the rocketing prices of the Chinese Old and Modern masters, drawing has really come into its own, with its annual revenue up by $1.318 billion over the year.
Today, with 2.7 billion people connected to Internet and a billion new users expected for 2012, the old system of physical auction rooms is increasingly being replaced by online sales. Some auction companies (including Heffel, Saffronart, Christie's and Sotheby's) have developed online trading platforms that have been operational for several years and Christie's posted a 29% increase in its online auction revenue in 2011 vs. 2010.
The sale of artworks online has become an irreversible aspect of the modern art market and the sums involved have already reached into 7 figures. In fact, the history of the art market – like all markets – is naturally heading towards the circuits that are the fastest, the least expensive, the most liquid, where the price can be obtained in real-time and where there is a critical mass of participants with – of course – access to transparent information on all prices and indices.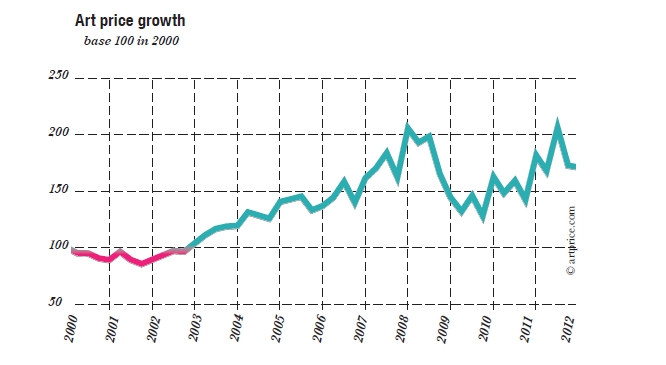 Figures for the Art Market in 2011:
$11.5B: total global art auction revenue
The absolute record… the total exceeded $10 billion for the first time ever, and grew 21% versus 2010. This strong growth was sustained throughout the year. After a record first semester ($6.5 billion), the second half of the year was just as exceptional ($5.1B, the best second semester ever recorded).
34%: the 2011 global unsold rate
The global unsold rate has been above 35% since 2008. In 2011, it dipped below this threshold to 34.8% despite a 7% increase in the number of lots offered at auctions.
$57.2m: the best result of the year
This figure was not generated by Pablo Picasso, or Alberto Giacometti, or even Andy Warhol, but Qi Baishi who scored the year's best result with Eagle Standing on Pine Tree; Four-Character Couplet in Seal Script when it fetched $57.2 million in Beijing on 22 May. Although 2011 did not see a new global record (in 2010 the global record was broken twice), it did see a large number of very high-end results.
1,688: the total number of results above the $1 million threshold
No new global record for a single work last year, but a 33% increase in the number of results above the $1 million line. And it comes as no surprise that China posted by far the best national score with 774 results. Indeed, Hong Kong alone posted twice as many million-plus results as for the entire Euro area!
69%: the percentage of lots that sold for less than $5,000
Over the last ten years, only two posted an "affordable works rate" below 70%: 2007 and 2008. It was therefore logical that in 2011 (which posted a number of similarities to those 2 years of strong art market growth) only 69% of the total lots sold changed hands for less than $5,000. In 2009 and 2010 the "affordable works rate" reached 74%. In 2011, the number of affordable lots did not diminish in absolute terms… it actually increased by 4.5%; but this expansion was slower than the rise in the number of high-end works offered. Asia, which accounted for 43% of the global art market, sold 19% of its auction lots for more than $100,000.
43%: Asia's share of the global art market
The growth of the art market in Asia has been stunning. In the spotlight since China effectively became the world's leading art marketplace in 2010, the year 2011 confirmed not so much the migration of the art market (which is still dynamic in the West) as a new situation of global art market bi-polarity. Aside from China's astonishing 38% growth in art auction revenue in 2011, a number of other Asian countries also posted strong growth: for example, Singapore (+22%) and Indonesia (+39%).
$271,795,000: the total revenue of the year's best auction sale: Sotheby's, Contemporary and Post-War Art sale, New York, 9 November 2011
This is the best sale result since 2008, but had it taken place in 2007 it would only have been the third best result. The sale benefited from two new records for Clyfford E. Still, and a new record for the German artist Gerhard Richter. Only 17% of the lots remained unsold, and 41 fetched more than $1 million.
4th: France's ranking on the global market with a market share of just 4.5%
France, third in 2006, has been in fourth place since 2007 since it was overtaken by China. In 2011, it maintained its fourth place although its market share was again eroded. Not much was done in 2011 to reverse this trend. Paris is now not only behind London and New York, but also Beijing and Hong Kong, and Shanghai (which posted growth of 21% in 2011) has reduced its lag by half and is now just $50 million behind the French capital.
58.5%: the share of the art auction market's total revenue generated by the top "1%" of lots
In other words the most expensive "1%" of all lots sold generated 58.5% of the world's total auction revenue in 2011. Hence, the remaining 99% of auction results generated less than half of the entire market's revenue. Again, it is not surprising that China accounts for the largest share of this "1%" (50%) with the USA representing 23% and the UK 20%.
12,400: the number of new artists' personal auction records
Excluding auction debuts, in 2011 more than 12,400 artists reached new auction summits including Qi Baishi ($57.2 million in 2011 vs. $12.5 million before 2011), Clyfford Still ($55 million vs. $19 million), Roy Lichtenstein ($38.5 million vs. $38 million), Egon Schiele ($35 million vs. $20 million), Salvador Dali ($19 million vs. $5 million) and Gerhard Richter ($18.5 million vs. $13 million).
18,000: the number of works offered for auction…