Porsche 911 Cabriolet Art Car By Romero Britto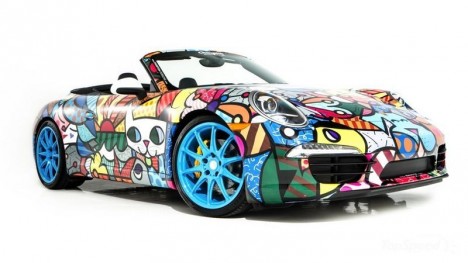 Repainting super cars and bikes is a trend at this year Art Basel Miami Beach fair. After Bernar Venet's Bugatti Veyron Grand Sport art car unveiled earlier the Neo-pop artist Romero Britto presented the Porsche 911 Cabriolet reinterpretated exclusively for Art Basel Miami Beach.
Champion Motorsport, a Porsche dealer in Pompano Beach, Florida, commissioned the art car that showcase the Britto's artistic creativity and colorful elements.
The Brazilian-American Neo-pop artist, painter, serigrapher, and sculptor combined elements of cubism, pop art and graffiti painting in his work . Britto workef for company commissions like Absolut Vodka logo design, Disney, Volvo car design and Hurricane Katrina logo advertising (the logo for "Save Haiti Saturday").