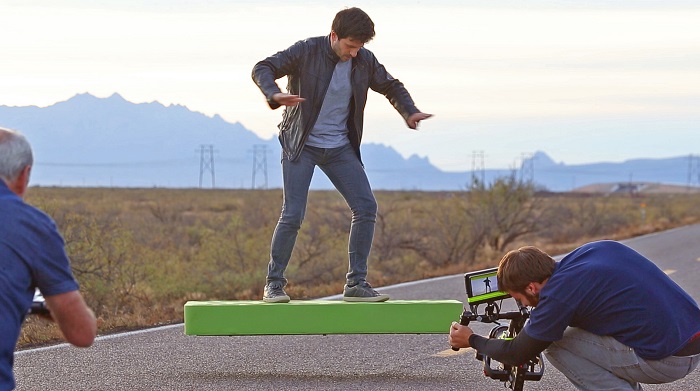 We are always dreaming of total freedom of movement, total freedom of travel. For the first time in history, every person will be able to fly whenever they want, wherever they want with an electric powered flying machine called Arcaboard. ArcaBoard represents the first revolutionary breakthrough in motion since the bicycle, automobile, and airplane. It was created by ARCA Space – an aerospace company established in Las Cruces, New Mexico, whose main objective is the exploration of space.
The electric powered flying carpet with 272 horsepower and 203,000 watts of installed power is the most powerful and lightest personal vehicle ever created, say its creators.
"ArcaBoard represents a revolution in motion. For the last 17 years we have developed aerospace technologies that looked to the sky. We took our knowledge and applied it to everyone's dreams. Dreams of flying," said Dumitru Popescu, CEO of ARCA Space Corporation. ArcaBoard is built from composite materials, it has a length of 145x76x15 cm (57x30x6 inches) and a weight of 82 kg (180 lbs). This technology allows a person with a weight up to 110 kg (243 lbs) to be able to fly.
The vehicle is able to fly up to 30 cm (1 ft) and with speeds up to 20 km/h (12.5 mph) and the overall performance is limited by the onboard sensors. The maximum endurance is 6 minutes, but with the ArcaDock accessory the user can be back in action in 35 minutes.
The ArcaBoard — the first ever flying hover board – will be unveiled to the public in a world exclusive on April 14th at Top Marques Monaco 2016, the 'ultimate luxury car show'. Visitors will be able to see the revolutionary vehicle in action and take one home for 14,900 USD.
"This groundbreaking and green technological innovation creates an entirely new transportation sector which runs entirely on electric energy. Launching it in Monaco mirrors the values of this state as a beacon in the green movement," said Popescu.
The groundbreaking invention is one of dozens of cutting-edge exhibits to be showcased at the 13th edition of Top Marques from April 14th to 17th in the Grimaldi Forum.