ROTWILD bikes carrying the exclusive Mercedes AMG name.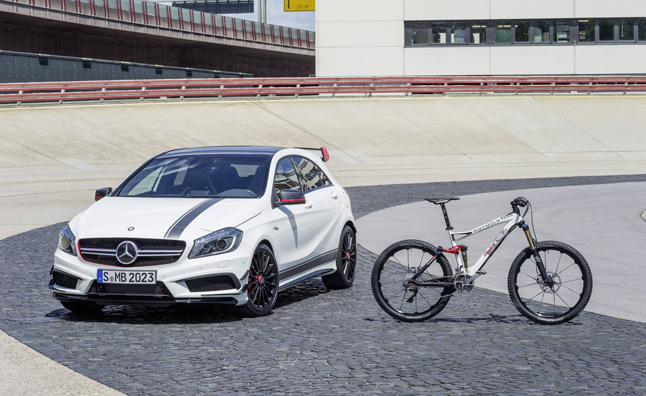 Fans of the Mercedes-Benz AMG are no longer limited when it comes to the number of wheels on their luxury rides. AMG and ROTWILD joined forces to create a superior racing bike. The hardcore cyclists can now enjoy riding on two wheels as well as four — and without giving up on the superior performance to which they've become accustomed.
The thinking behind the recent collaboration between Mercedes-Benz AMG and ROTWILD is as follows: luxury drivers are expressing concern about maintaining healthy lifestyles and doing their part for Mother Nature, but are not willing to give up on the comfort, convenience and sheer cool factor offered by any Mercedes A45 AMG.
The result is R.X45 AMG All Mountain Bike– an athletic bike designed to carry all the advantages of the four wheel version of the vehicle, but without the need for fuel. It is used from street racing to the rougher terrain of mountain bike trails.
The elite racing quality is of the R.X45 is made possible by a light, yet sturdy frame infused with carbon fiber for extra oomph.