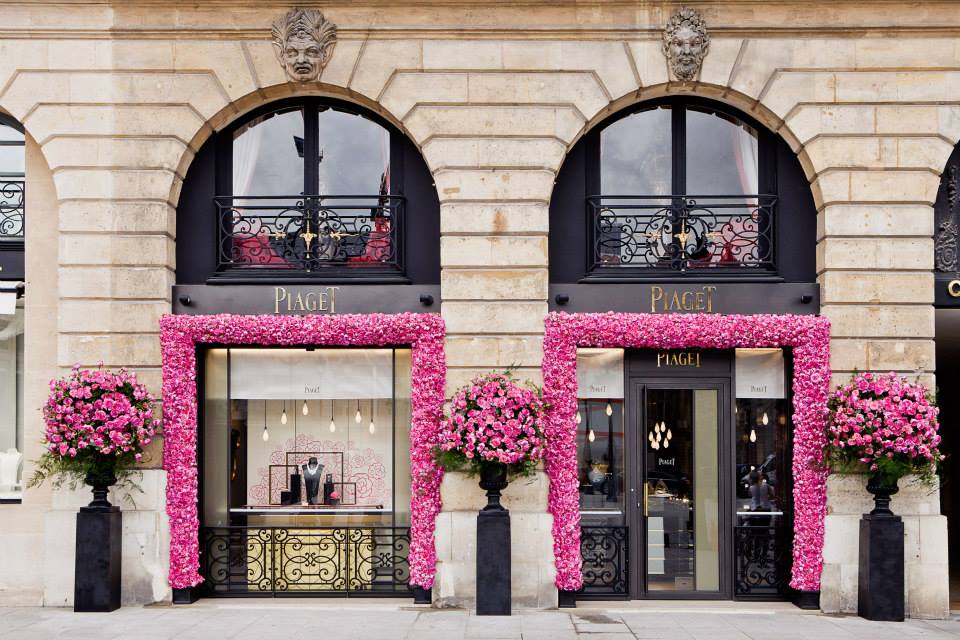 The rose has been a key design motif for the Swiss House of Piaget since the 1960s. Yves Piaget's passion for the flower was recognized in 1982 when the winner of the Geneva International Competition of New Roses was christened the "Yves Piaget Rose," further solidifying the House's connection to the rose.
In tribute to the rose that is named in honor of Yves Piaget and that also inspires a collection of its jewelry and timepieces, the Swiss luxury watchmaker and jeweller (founded in 1874 by Georges Piaget in the village of La Côte- aux-Fées) celebrated this June 13th as the first "Piaget Rose Day."
The launch of the world première Piaget Rose Day took place on June 13th 2013 in the Ephemeral Orangerie of the Jardin des Tuileries in Paris. Melody Gardot treated the 350 guests including VIPs, clients and celebrities to a private concert.
Piaget Hong Kong store offered a delightful selection of rose-inspired sweets, and a Piaget and Ladurée rose macarons limited-edition. A true garden of roses greeted visitors for the Piaget Rose Day in Geneva, Switzerland. Guests tried on Piaget Rose creations in the Netherlands, while champagne, roses and macarons welcomed visitors in the Piaget boutique in Russia. In the U.S., Piaget celebrated the day in partnership with the New York Botanical Garden by planting a special Piaget Rose bush in the famed Peggy Rockefeller Rose Garden.
Piaget also launched an updated version of its U.S. e-commerce site with exclusive jewelry and timepieces from the Piaget Rose collection. A worldwide social media competition invites fans of the brand to post rose-themed testimonials to their loved ones on the Piaget Facebook page.