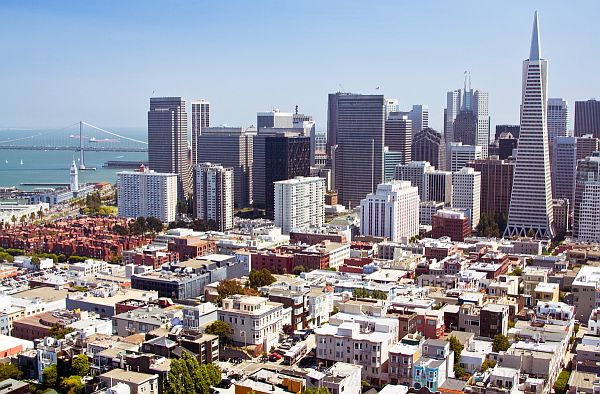 ---
This article titled "All aboard San Francisco's hipster bus for leather seats, Wi-Fi and iced coffee" was written by Nate Berg in San Francisco, for theguardian.com on Thursday 9th April 2015 11.56 UTC
The bus stop, outside a pancake restaurant in San Francisco's upscale Marina district, is like any other. The bus is not. Sky-blue, minimally branded, advertisement-free, it pulls up to the curb, where a handful of young, affluent people wait, phones in hands. As we step through its doors it feels like we're entering some sort of a mirror world, a bizarro version of a bus where crowds, security cameras, rule signs and the dusty soot of city commuting have all been replaced by polished wood, black leather, spacious seating and a general air of calm cleanliness.
Passengers hold up their smartphones to scan QR code tickets on a mounted tablet at the front of the bus, and move into the seating area. A few rows of plush leather armchairs face a row of stools at a laptop-friendly bar. One woman opens a laptop. The others – there are just seven riders on this recent Friday morning commute – are deeply engrossed in their phones. The bus attendant, like a steward on a plane, mans a mini-fridge stocked with drinks and snacks for sale. He's got two varieties of iced coffee, cold-pressed juices, yoghurts and granola bars. You can buy them via credit card through Leap's app, and he'll hand-deliver them to you in your seat.
This is Leap, a new private express bus service that began operating in March under the presumption that some people will pay – not including snacks and drinks – to ride a bus in style. Leap runs from the Marina to the tech-core of the central business district, a few miles away, and pitches itself as a nicer alternative to Muni, the city's public bus service, which costs .25 a ride.
"Muni buses are crowded and dirty," says Casey Woo, who's riding Leap to his downtown job at a startup. The extra cost is worth it to him, he says. "It's like flying on Virgin America," with its sleeker interiors and higher price point. He's sure the buses will start filling up with more passengers. "Everything from the cleanliness to the convenience to the social aspect makes it a more fun way to get to work." Woo's profile on the app – all passengers get one – invites fellow Leapers to come tell him a joke. Nobody has yet, he says, but he notes the bus has only been running a few weeks. He's friends with Leap's COO, and is confident others will be willing to pay the extra price, as he is, for this more luxurious commute.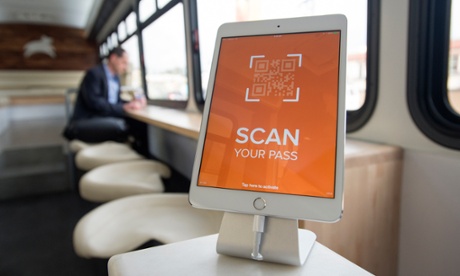 The other riders tend to agree. "The fare is a no-brainer compared to the cost of a taxi ride or the daily parking fee at my office," says one, who wishes to remain nameless.
Her reticence may not be simply shyness. Leap has attracted its fare share of opprobrium for seeming to be a convenient way for rich people to avoid crowded city buses while sipping juices. It operates a single route: one-way express service during rush hour from four pickup points in the Marina to four dropoff locations downtown, and the same route back. On the wide spectrum of urban transportation options – from publicly operated transit systems to cars to bikes to feet – Leap fills a unique band. It's a private service, backed by .5m in venture capital and accessible to anyone who downloads its smartphone app, has a credit card and is willing to pay nearly three times as much for a slicker, slightly faster and undeniably more pretentious version of a bus ride to work.
"Really, this is nothing new – jitneys have existed in cities for 100 years," says Timothy N Papandreou, planning director for the San Francisco Municipal Transportation Agency. He says these types of services can offer a middle ground between formal public transit and taxis. And with the added layer of the smartphone, what Papandreou calls "e-jitneys" are undeniably ahead of the curve in solving some of the problems still facing public transit systems, such as ticketing, scheduling and location tracking.
San Francisco is the testing ground for a lot of these "shared mobility options". There's the new on-demand passenger van service Chariot, and the "transportation network companies" Uber and Lyft have recently launched their own carpooling equivalents, UberPOOL and Lyft Line. Tech companies like Google and Genentech have somewhat controversially entered the transportation ecosystem as well, by driving bus routes between their Silicon Valley campuses and the San Francisco neighborhoods in which many of their workers live.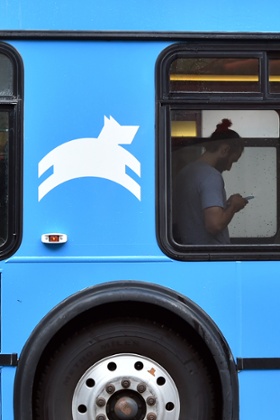 Anything that takes another single occupancy car off of San Francisco's streets is a benefit to the city, in Papandreou's opinion. He does worry, though, about services like Leap and Chariot catering to a small, boutique market of potential riders. "Unless they broaden their market, they may end up cannibalising each other," he says.
Others have expressed concern that these new, more luxurious alternatives may be pulling passengers off of Muni, thereby creating a "two-tier" public transit system, in which the poorest residents are left riding underfunded, decaying public services. Leap riders have been known to complain about Muni's smells and crowds and homeless people.
Susan Shaheen, co-director of the Transportation Sustainability Research Center at the University of California Berkeley, who has been studying shared mobility for more than 20 years, says that while it's too soon to know, the "two-tier" scenario is unlikely. She points to the example of Hangzhou, China, which recently built a 60,000-bike sharing system, the world's largest. She studied whether the addition of all those bikes was helping or hurting the city's public transit system – and found that it both complemented it and competed with it. "But in the places where it was competing, it was providing more capacity," she says. Overall, she concluded, the competition made the system work better.
Nevertheless, for many in San Francisco, Leap and its on-board coffee service leave a bad aftertaste. "It's the exact same thing we saw with the Google buses," says Ratna Amin, transportation policy director at SPUR, an urban planning research and advocacy group. "We're having a lot of issues around inclusion and equality in San Francisco, so I think seeing something that's unaffordable to most people taps into real frustration about how hard it is to live here." Others have complained that Leap buses are not accessible to wheelchairs.
Amin is at pains to stress that Leap and its peers are providing, at most, a few thousand trips per week – a drop in the ocean of nearly 10m trips that are made throughout the region every day, mostly in cars. "It's the private car that's the real pervasive private transportation problem in the Bay Area."
While Leap plans to expand – more than 2,000 requests for additional routes have been submitted through its website – its initial service is still building ridership. On Friday evening, I rode a bus with only two passengers. As we stepped out of the luxury bus to re-integrate ourselves into the public sphere of the city's streets and sidewalks, across from us was a Muni 30X bus – the line Leap's route vaguely mimics. The public bus, with its more frequent stops, no-frills interior design and lower price point, was standing room only.
guardian.co.uk © Guardian News & Media Limited 2010
Published via the Guardian News Feed plugin for WordPress.