The Best of Airstream + Mercedes-Benz.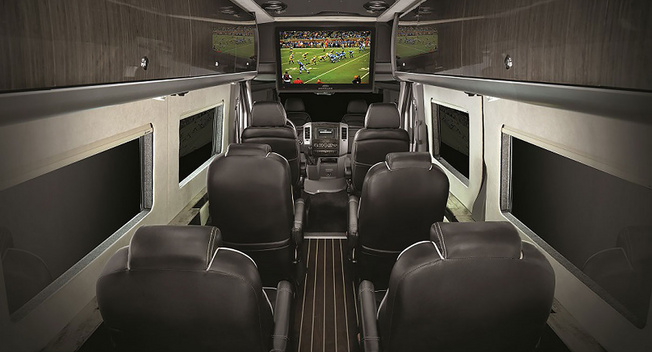 Airstream, maker of the iconic silver-bullet travel trailers, has unveiled its all-new luxury passenger van – the Airstream Autobahn – a vehicle that aims to deliver a new standard in VIP travel. The new luxury van made in partnership with Mercedes-Benz is targeting companies that cater to affluent travelers.
The tinted windows hide at luxury experience and an interior inspired by a private jet's cabin, according to Airstream. With seating for eight, the Autobahn includes the advanced Airstream Smart Control System for a flawless passenger experience. Airstream Autobahn is equipped with durable wood trim, leather seating, dual refrigerators and individualized controls.
"Airstream continues to set the industry standard for unparalleled luxury travel, a strategy further enhanced by our partnership with Mercedes-Benz," said Airstream CEO and President Bob Wheeler. "Whether your VIP is a professional client or family member, we are creating a new category that delivers an exclusive level of focus on individual passenger comfort and convenience."
Each position in the main cabin includes a power footrest, heated seating and power outlets (120v and USB) along with a workspace equipped with a functional desk.
The vehicle comes standard with the innovative Airstream Smart Control System providing centralized control for all main cabin lighting, shades, heating and air conditioning through the user's smart device. The system also controls onboard entertainment, with state-of-the-art electronics including a 32 inch LCD TV screen, Blu-Ray player, Pandora, and an Apple TV box with Air Play functionality.
Superior safety features include collision prevention assist, lane keeping assist, blind spot assist, front and rear parking assist, headlight high beam assist and more.
Airstream first began its collaboration with Mercedes-Benz with the launch of the Airstream Interstate in 2004. The Interstate remains the top selling Type B motorhome model for the third year in a row.
The Autobahn prices start at $133,024.