Adler Suprema opens a new world of yachting – far away from traditional design and technology.
Adler Suprema is a private living room at sea. Generous and perfectly equipped relaxation areas invite you to sit back and indulge in the comfort on board.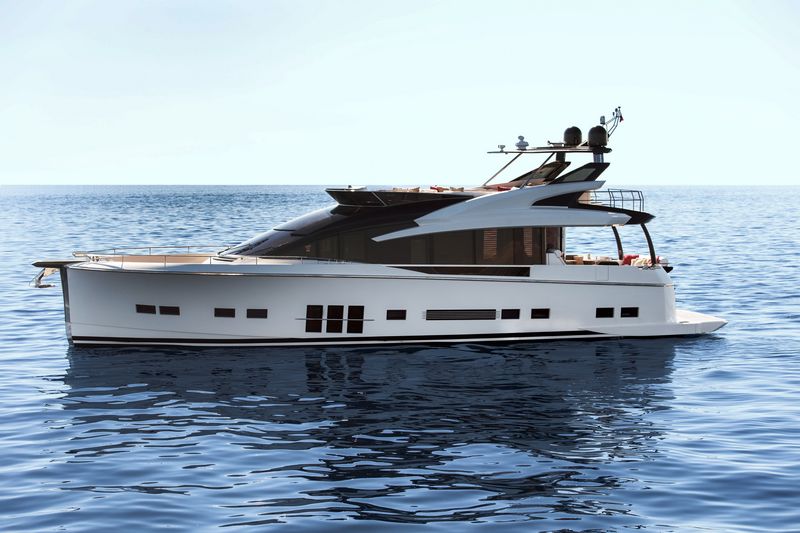 This yacht by Adler Yachts delivers what its creators' names promise: Italian style at its best. Designed by Carlo Nuvolari and Dan Lenard, the ADLER SUPREMA leaves a lasting impression at first sight.The intelligent design lets you enjoy a feeling of freedom like no other ship: By opening all side panels on the main deck the boundaries between inside and outside merge together.
Each deck is barrier-free, so you can move around without a single obstacle or having to take a flight of stairs. Needless to say, the ADLER SUPREMA has been awarded the CE certificate in design category "A".
Nuvolari-Lenard, the highly awarded and renowned Venice-based superyacht design studio, provided both interior and exterior design for the Adler Suprema, which is constructed from carbon fibre, Kevlar and fibreglass to provide a tough and rigid hull that is also sporty and efficient. It is the first carbon fibre yacht in its category.
Two years of testing and four years of development on the hybrid system have resulted in what is probably the most efficient yacht in its class, with up to 50% more efficiency than a conventional system. At a rate of 8 knots, with a fuel capacity of 5,200 litres, the yacht can  provide a range of over 3,500nm.
The result is a trailblazing 23.11m flybridge yacht that offers many of the comforts and technology one rarely sees on a superyacht, let alone a vessel in this size category.
There is accommodation for between six and ten guests in three or five hi density cabin  arrangements, as well as two live-aboard crew. In the former arrangement, the full-beam master  cabin amidships on the lower deck includes a walk-in wardrobe and en suite bathroom, while double ensuite guest cabins are located to the bow and the stern.
On the main deck, a partitioned wheelhouse provides guests in the galley and adjoining saloon with total privacy. Opening up the side panels in the main deck's saloon gives a feeling of space and connection to the outside, whether you are lounging on the sofas or seated at the dining table overlooking the aft deck.
Small details will make a large impact for those on board, including under-floor heating on the main deck and lower deck bathrooms. There is an infrared heating strip on the stern cockpit to protect against chilly conditions. Showers on the fly deck and swim platform mean guests can cool or rinse off whenever needed, while chilled cup holders keep drinks refreshing in the summer's heat.
Technology is a key part of the Adler Suprema's appeal. iPad controls allow an owner to monitor and change the settings of the yacht's various systems, even when not on board. For ultimate discretion, privacy glass provides one-touch transformation of windows into opaque glass panels.
The high-capacity batteries will last all day, meaning guests can enjoy the full suite of facilities without needing to touch the generator or engines. Drawing on aviation, automotive and marine backgrounds, the team behind the Suprema have placed paramount focus on safety and security. A sophisticated fire alarm and suppression system, CCTV, and infrared and underwater cameras offer peace of mind, while Adler provides 24-hour phone support to clients.
The Suprema's HMS diesel-electric hybrid propulsion system includes carbon propellers with twin diesel Caterpillar engines and twin ATE high-efficiency 100kW e-units, which alone can provide up to 60min of silent electric propulsion at 8 knots (with a full recharge taking an hour). Emission- and vibration-free propulsion can be achieved up to 10 knots, but when the situation calls for speed, the Suprema can provide a maximum output of up to 28 knots and a high-speed cruising of 22 knots.