A sea of 2500 excited dinners.
Throughout history, the colour white has evoked thoughts of elegance, secrecy, silence, purity, and simple beauty. On Thursday night, a wave of 2500 diners, dressed in head-to-toe white, gathered at the park beside Science World for Vancouver's version of Diner en Blanc. Guests arrived by foot, SkyTrain, event bus, and boat. Diner en Blanc (Vancouver-style) was quite simply; a beautiful, very secret and exclusive, flash-mob picnic/dinner party.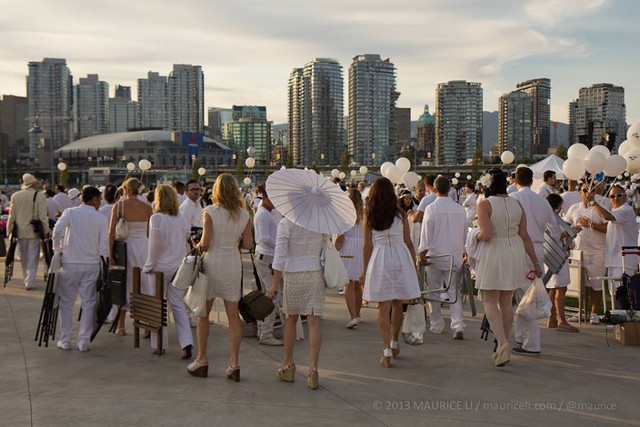 Diner en Blanc was launched 25 years ago in Paris by François Pasquier. What started as a spontaneous gathering annually among Francois's inner circle is on its way to becoming a global phenomenon. This year, more than 30 cities across five continents participated. Each event in each city is headed by a local organizer, who adds their own flair while respecting the event's core values.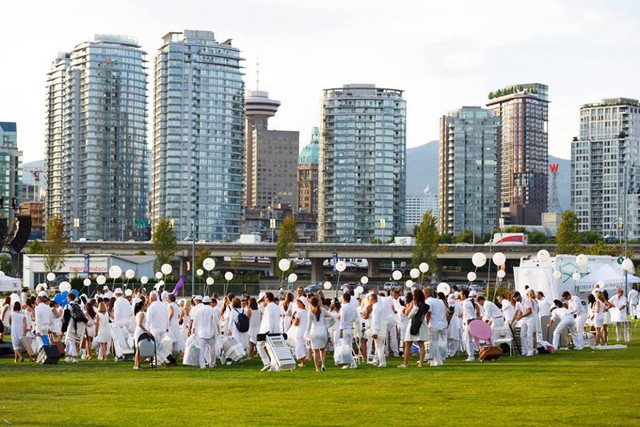 All participants are assigned a group leader who provides the information required to take part. However, the location of Diner en Blanc is kept secret until the day of, and just before, the event. There is a dress code and a dining code. Diners are asked to dress in white, including white hats (if they're wearing them), white shoes, and even white handbags. They're asked to bring their own white chairs, square white tables, white tablecloths, cutlery, glasses, and centrepiece. No plastics or disposables are allowed. For a small additional fee, fully-set tables, chairs, and centrepieces await those who don't want to lug their wares.
Diners had the option to bring their own food, which some did, or pre-order from various menus provided by Hawksworth Catering. Of course, the Tableau d'Honneur (a multi-course fully-catered menu) was the best and easiest choice. David Hawksworth, owner and chef at Hawksworth Restaurant, was delighted when he was asked to cater Diner en Blanc "The menu discussions began eight months ago. We cater many high-end events around the city, and this was something fun and unique we wanted to be a part of", said David.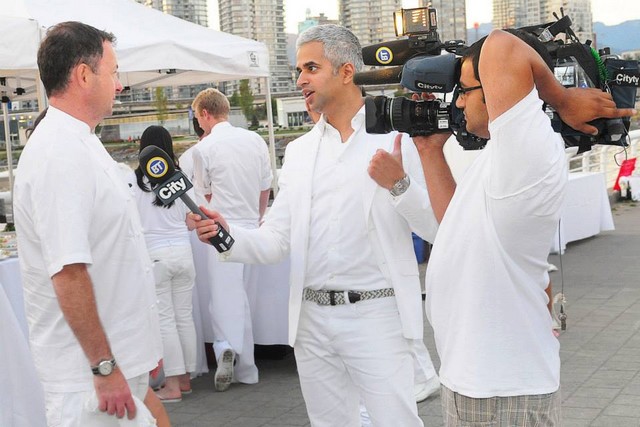 Event organizer Tyson Villieneuve said "We're bringing the joie de vivre to Vancouver in its 'purest' form – a little taste of Paris for one night, with a Vancouver flair". The media also donned all-white apparel, but didn't raise an eyebrow that they had to dig in their own closets for white to gain admission. All members of the media were treated to their own cocktail party, with complimentary canapés and sparkling white wine, and the best view in the venue. Everyone enjoyed the ambience and scenery. It was beautiful.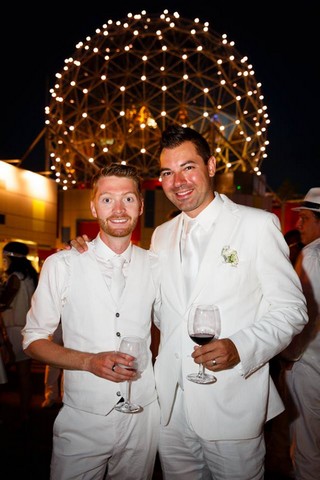 In the spirit of Diner en Blanc, there were a few additional etiquette rules. 2500 napkins (symbolizing the number of guests this year) were waved simultaneously in the air, signalling the beginning of dinner. Later on, 2500 sparklers waved simultaneously in the air signified the end of dinner, as the dancing began.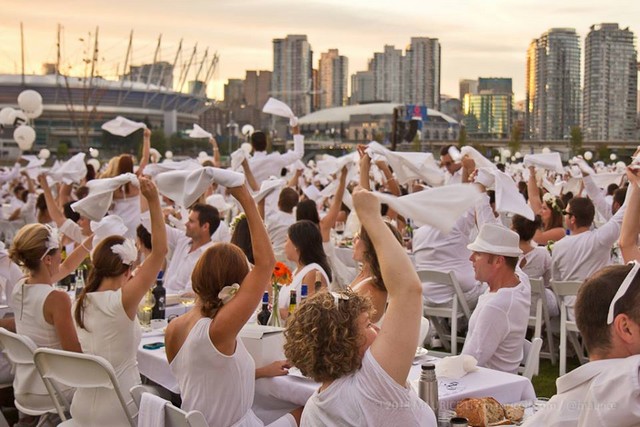 Etiquette, once a lost art, has become trendy again, and events like this help the cause. As a personal fashion stylist and etiquette coach, I couldn't be happier. As for the after-party (or parties)? That's another story – no etiquette necessary, apparently.
With 1200 diners in 2012 and doubling to 2500 this year, 2014 could be monumental. The waiting list is long, and only 2500 of the 10,000 hopefuls from this year's waiting list were able to participate in Vancouver. If you're interested in joining Diner en Blanc in 2014, here's the global link. http://dinerenblanc.info . Just click your desired city tab at the top, follow the instructions, and good luck. Oh – and about next year's Vancouver location. I have an inkling where that might be, but in the spirit of white, in case you haven't heard . . . Shhhhhh…It's a secret.
Photo credits : Jonathan Evans, Maurice Li, Tammy Maltese, Dan Poh
About Cynthia Pace:
Cynthia Pace is an accomplished personal fashion stylist, lifestyle model, image consultant, etiquette authority, writer, and fashion/luxury/event lifestyle host & producer. Respected for her ability to find the classy/sexy balance; "always appropriate" is her motto. From hair and make-up, to accessories and jewellery, to clothing and even nail colour, she guides entire style teams to create head to toe synthesis and perfect wow factor for any style occasion.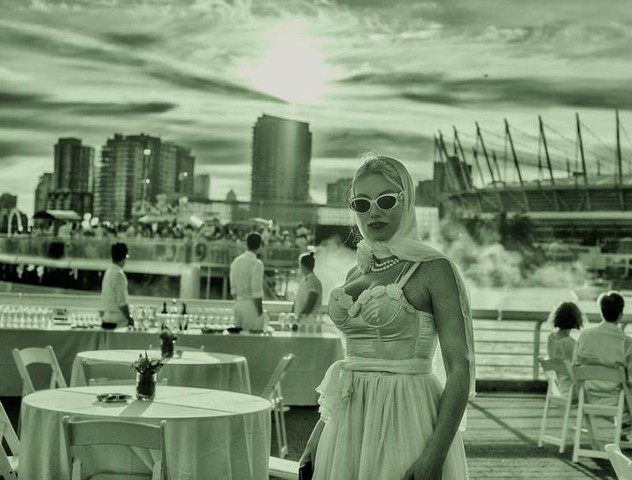 Follow Cynthia on:
www.facebook.com/cynthia.pace1
instagram.com/styleandimagewithcynthia