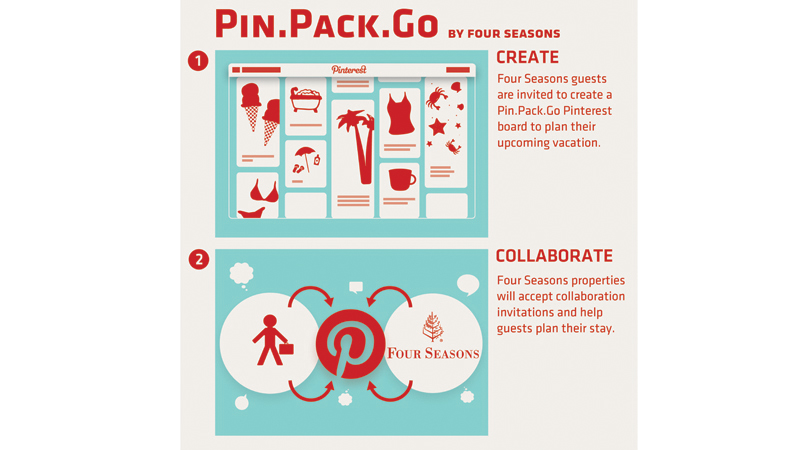 Four Seasons hospitality luxury chain has applied its expertise to a new virtual concierge service offered through Pinterest. As the first luxury hotel company to establish a global presence on Pinterest, Four Seasons introduced Pin.Pack.Go, a new trip planning service that leverages the power and popularity of Pinterest to connect guests with hotel's experts.
Knowing the thrill of travel adventure begins long before a guest ever sets foot in a hoel, Pin.Pack.Go aims to provide new opportunity to engage travellers early on in their trip planning process.
Users create a Pin.Pack.Go board on Pinterest. Next, the user leaves a comment on the Pin.Pack.Go pin indicating which destination he will be visiting. The Four Seasons hotel in the area will follow the user on Pinterest and will send a request to collaborate on the board. The hotel's local experts will pin recommendations filled with insider knowledge and hidden gems. Pack and go!
"Photo sharing platforms such as Pinterest are transforming the way our guests plan their trips, share ideas and select travel destinations," says Elizabeth Pizzinato, senior vice president, marketing and communications, Four Seasons Hotels and Resorts. "Pin.Pack.Go extends the culture of service at Four Seasons far beyond our property walls creating new opportunities to provide guests with personalized recommendations and insider knowledge well before their trip begins."
Four Seasons continues to set the bar in social media engagement, leading the industry with continuous evolution and innovation. In 2013, Four Seasons received three Travel + Leisure Social Media in Travel and Tourism (SMITTY) Awards, including Best Hotel Chain.