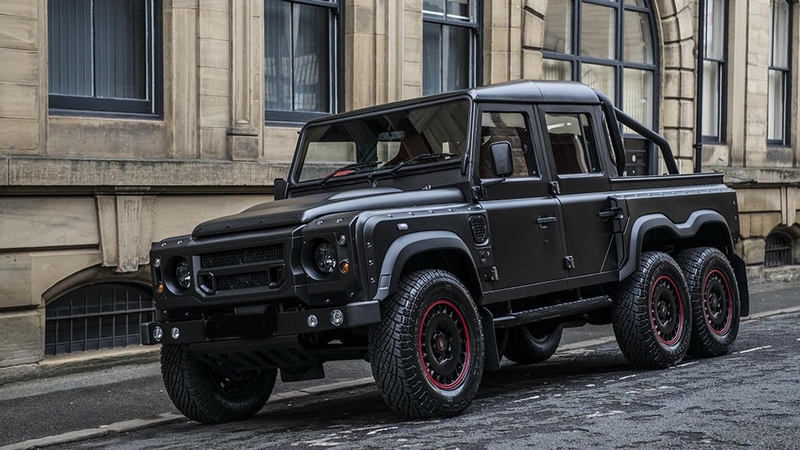 Urban Warrior, creators of unique SUV's based on the iconic Land Rover Defender 110, announces that it will build a 670 hp version of the Kahn Design Flying Huntsman 6×6, a modified Land Rover Defender that was introduced at the 2016 Geneva International Motorshow.
"Now we can back up the tough military look of this unique vehicle with breathtaking power and performance," stated Sean Hyland, Urban Warrior president.
The Urban Warrior Flying Huntsman 6×6 will be equipped with all of the custom and luxury touches that customers have become accustomed to seeing in other Urban Warrior 110's, including a supercharged 670-hp 5.0L Ford Coyote V8, 6-speed automatic transmission with shift-on-the-fly transfer case, limited slip differentials, upgraded suspension, wheels, and tires, a premium sound system that includes navigation, rear-view camera and Bluetooth, upgraded soundproofing and carpeting, heated and cooled leather Recaro seats, and leather-upholstered surfaces. The first Urban Warrior version of the Flying Huntsman is expected to be delivered in late 2016.
Along with their own version of the Flying Huntsman 6×6, Urban Warrior continues to pursue its vision of the iconic Land Rover Defender. Using latest-model Defenders, Urban Warrior removes the 2.2L, 122hp diesel engine and 6-speed manual transmission that comes with it, and replaces it with a 5.0L, 435 hp Ford V8, and 6-speed automatic, with shift-on-the fly transfer case. Upgraded suspension, wheels and tires complete the base package and customers can choose from a wide array of options and luxury touches.
The Urban Warrior can be designed to be as unique as the individuals who drive them. From on-road to off- road and anything in between, there is flexibility in design, finish materials, power, and options.